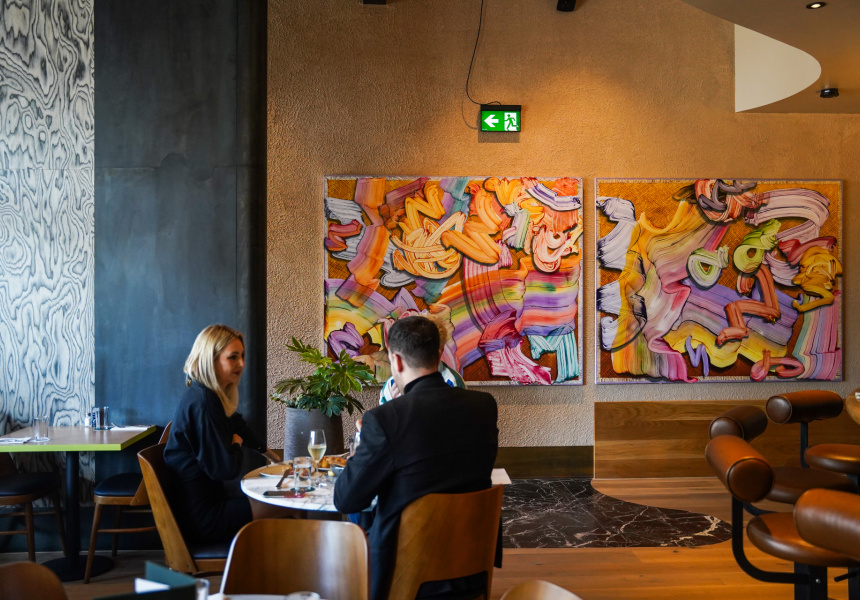 Untitled, Richmond's slick double-storey bar, is "like a home away from home" where guests experience something different every time
After three years of waiting, Swan Street cocktail bar Ugly Duckling finally has a sibling – and she's a head-turner.
The brainchild of Andrew Ryan (Mitchelton Wines, Melbourne Pub Group), Daniel Vid (Melbourne Pub Group) and David Abela (3 degree marketing), Untitled is an elegant two-story bar and restaurant designed to welcome locals like a home away from home.
The 100-seater was equipped with all the trimmings by Flack Studio. The sophisticated decor is done in decadent tones of caramel, rich walnut, and bisque oak, and while you might feel like you've stepped into an art gallery, tactility is a key element of Untitled's winning formula.
"We wanted the aesthetic to feel really interesting and layered," says Ryan leaflet. "Even though there are a few colors and nearly 20 different finishes per level, it's still inviting and comfortable. It feels new but familiar."
With multiple dining areas, window seating, a horseshoe bar, and a garden room, each aperitif, lunch stop, and three-course meal can feel like an entirely different experience.
Both Ryan and Abela are avid art collectors, hence the restaurant's enigmatic name. "An untitled work of art is always changing," says Abela. "Working with Flack, we strive to continually overlay and evolve the space. this is how untitled works come alive and become meaningful pieces."
The kitchen is led by Timothy Martin (The European, Taxi Dining Room) and assisted by Brae alumni Tom Ferne. Despite the duo's impressive credibility, the food here isn't "tricked out."
"We didn't want anything special," says Abela. "We wanted a place where people would feel comfortable a few times a week."
Ryan's choice on the European-inspired menu — which includes Murray cod fillet with roasted cucumber and spaghetti frutti di mare — is duck ragout gnocchi. "It's pretty special. Get some bread just for the sauce afterwards or even fries. It's like dipping in KFC sauce."
If you feel like snacking, opt for the popular Pea Ricotta Arancini Balls. "You're actually quite amazing. They're rustic with a big piece of cheese in the middle."
The introduction of a robust kitchen also opens up opportunities for ugly duckling, and there are plans to serve the cocktail bar with a reduced menu in the coming months.
The wine list, curated by Stephen Ruse, maintains the bistro's Euro feel, hopping through Basque, Vincenza and Chablis before coming home with a healthy mix of Mitchelton drops to settle in Victoria.
The combination of chocolaty interiors, inviting service and an accessible menu sparks an instant warmth at Untitled.
"We're in the hospitality industry, not just the service industry," says Ryan. "Untitled is an extension of our home. We want you to feel like nothing is a problem, we're here to help and make sure you have a great night."
Untitled
236 Swan Street, Richmond
(03) 7033 1674
Hours:
Tue to Thu 5:00 p.m.–late
Fri & Sat 12:00 – late