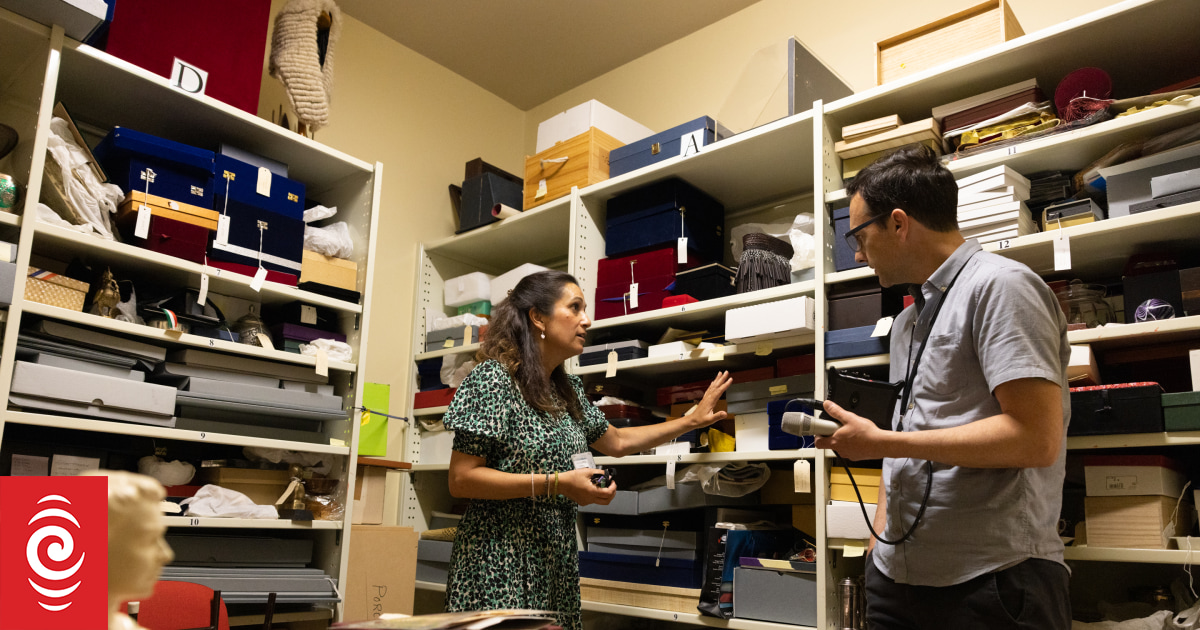 The parliamentary collection: an eclectic list
A lock of hair from Queen Victoria, an anti-vaccine poster, a specially designed mug from the hive's opening ceremony in 1977 and a large wooden elephant.
These items form part of the Parliament Collection, the most notable of which is an important art collection that you can widely see on the walls surrounding Parliament.
The art collection includes sub-collections and these are treasures. Parliamentary collection curator Tasha Fernandez says that many of the works that those who come to Parliament will notice are by notable artists that came out of the MFAT transfer in the early '90s, as art made in the was kept by New Zealand's high commissions, was brought back home abroad.
"If you look down this corridor and some other parts of the precinct, we have absolutely stunning (art) … we have four Colin McCahons – that's quite exquisite – we have some Frances Hodgkins, some absolutely stunning pieces." We're very lucky," she says.
"An incredibly diverse and eclectic collection," the Parliamentary Collection has existed since the 1880s but was not formalized until the 1990s, explains Fernandez.
"We have protest materials, we have photographs, staff uniforms over the years, construction-related materials and an original 1977 carpet from the beehive."
Fernandez is determined that the public should be able to experience the Parliamentary Collection, which includes four and a half thousand copies. "There's twenty-eight paperweights in there too!" she adds.
"I'm really careful and make sure the good stuff is seen. I really want a lot of people to see this work. So right now I'm working with an internship program. to digitize the collection, and that's really important. So you don't have to be at the station to see it."
If she is offered any item for collection, she must consider whether it is for Parliament and Country only.
"The latest purchases are related to the big protest (in February/March). And that's important, because for the collection to remain relevant, it has to reflect our history, and that's been a big part of New Zealand's history. It wasn't a pretty part, but it was meaningful."
The collection also includes the traditional objects used to open and close Parliament, such as the mace and black staffs. Sometimes things get lost around the district, so it makes sense to keep them under the supervision of the curator, who is also tasked with regularly winding the huge old Magneta Master clock on the first floor of Parliament House.
Fernandez also plays a role in installing art in MPs' offices. Some, of course, bring art they have sourced themselves, often through members, to hang, but the curator is there to help a member capture their essence a little in art in this office they come to thirty weeks a year .
Meanwhile, art shows in the district are updated frequently, and Fernandez reminds The House that Parliament's public tours of art have resumed after a pause due to the pandemic.