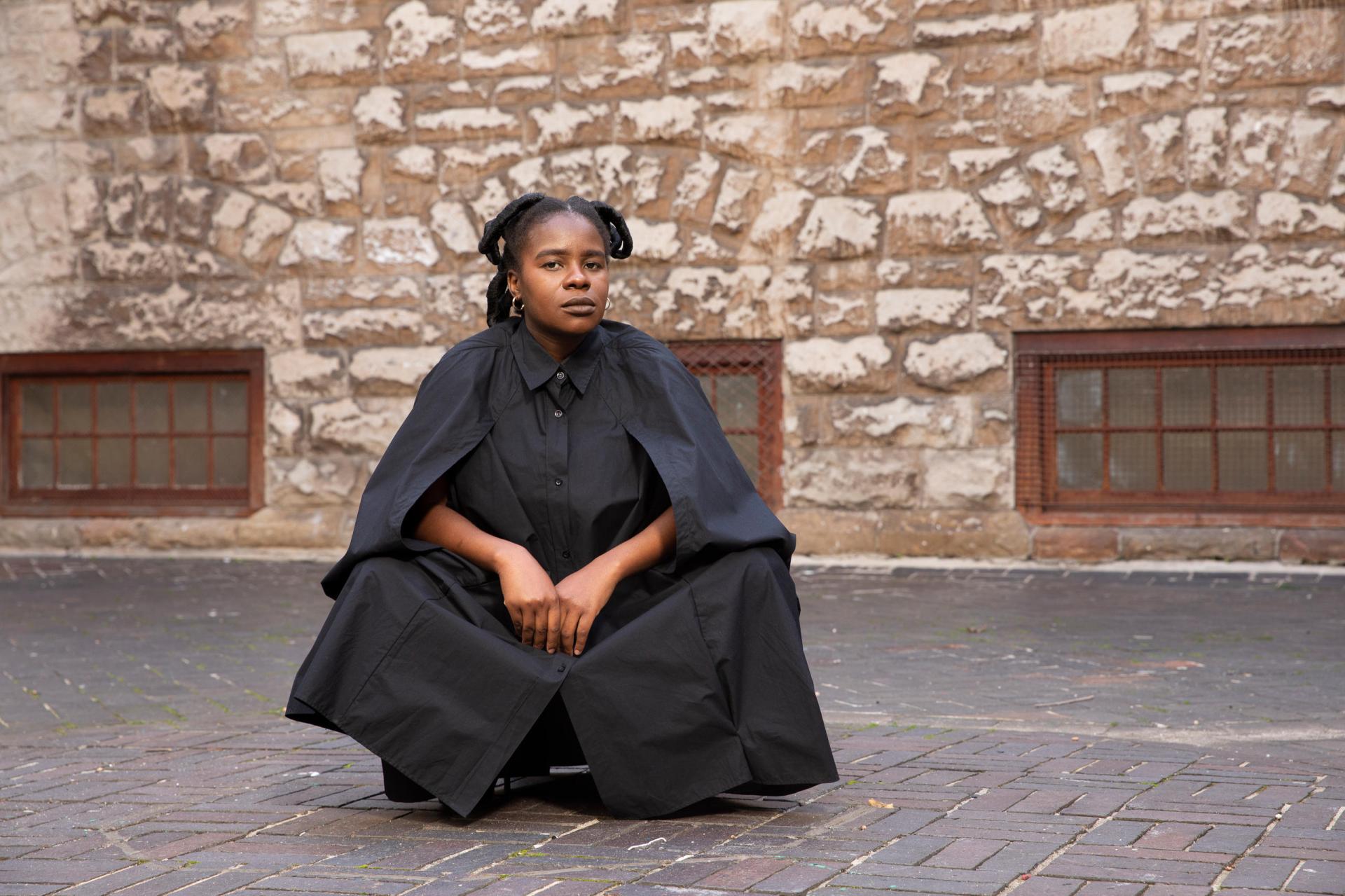 The new director of Bern's Hauptkunsthaus wants to start a conversation
In May, South African curator Kabelo Malatsie came to Switzerland to direct one of Bern's most important art institutions, the Kunsthalle. SWI swissinfo.ch caught up with her to talk about her approach to curating and what she thinks needs to change in the art world.
This content was published on July 10, 2022 – 10:00 am

Aoife Rosenmeyer
Fascinating was the appointment of South African curator Kabelo Malatsie to succeed Valérie Kroll as director of the Kunsthalle. Not only is she the first non-European to head a Swiss public arts institution, the former Johannesburg native has also embarked on an unusual career path.
Malatsie first studied marketing management before switching to art history and eventually curating. She began her professional life in the arts as Acting Director of Cape Town's Stevenson, a commercial gallery, before bringing her expertise to an artists' rights organisation. Curatorially, she is best known for her work as part of the Yokohama Triennial 2020 (Japan). She was asked by Raqs Media Collective curators Michelle Wong and Lantian Xie to create a distinct and complex program called " Reflections on discursive justice.
Her appointment as the new director of the Kunsthalle – an art space without a permanent collection – is part of the institution's long disruptive tradition. In the 1960s it was the epicenter of radical experiments led by its leader Harald Szeemann – which eventually cost him his job. Decades later, in 2015, the Kunsthalle appointed Valérie Knoll, the first woman to head the institution. As a non-European, Malatsie brings to Bern a new perspective on what curating and art spaces can mean.
SWI swissinfo.ch: You hardly had time to unpack your bags. How do you want to explore the city of Bern and its art scene?
Kabelo Malatsie: I let people who have worked in this area and live in Bern help me to find my way around. I will walk a lot.
SWI: In the art world, the Kunsthalle Bern is known for experiments in the contemporary field; Nevertheless, Bern is quite conservative. How do you perceive your audience?
KM: To be honest I haven't met the audience yet. It would be disingenuous of me to say that I will be curating with the audience in mind. My approach is to do shows that interest me and hope that leads to conversations. What interests me: a platform for ideas and a more dialogical approach to curatorial practice instead of "I'll show you something finished and finished", which excludes any potential for feedback and discussion.
The other thing that interests me is working with young people, especially so that they challenge the Kunsthalle. Although it's known for experimentation, I'm sure it's old and institutional now, and [this condition] criticism can stifle.
SWI: What attracted you to work at the Kunsthalle?
KM: It's kind of like an empty container; It has no permanent collection and as director it comes down to your own curatorial interest in filling the space. Although we will be working with artists in a relatively short period of time, it would be great if we could define working models that we can test together and that artists can take with them in their future work.
SWI: You once said that your early conception of curating was to hang objects on walls. How has this concept expanded since then?
KM: At the beginning of my understanding of curatorial practice, I thought more in terms of curating museums, which can be very conservative. Now I think even administrative work can be curatorial. One can think creatively about Excel spreadsheets and go beyond balancing money; We can imagine different resources going into an exhibition.
When you undertake a project, you start out ambitious, conceptual, then the concept begins to wane as everyday problems take over. I hope that as an administrator I can foster a work practice where the conceptual stakes are always high and I don't reduce concepts and get bogged down in practical things.
SWI: How would you define an art space?
KM: Creativity is everywhere. Space for art is everywhere. I read an interview a long time ago where [Brazilian artist] Paulo Nazareth said that even if he stopped making art objects and was a fisherman, as a fisherman he would still be an artist. Curatorial practice can go in several directions.
SWI: I can understand your point of view, but is a gallery or a museum still the privileged place for art?
KM: There's the old-fashioned western way of doing things: things are [categorised] in neat boxes. Here we have art, here we have medicine and so on. (When I mean western, I also mean colonized places.) Well, in South Africa things are also in boxes, more so in formal institutions.
For me, those boundaries are no longer important as long as what you're doing makes sense. A good example is Stephen Alexander, a physicist and jazz musician; You can think about scientific questions during an artistic activity. So I'm not really concerned with defining what curating is or what art is.
SWI: I think we have to see what happens in the Kunsthalle…
KM: There will There will be art objects, there will be performances. There are a number of questions I try to answer with each exhibition. Each work will try not to answer, but to deal with a question that I have.
SWI: For many art institutions and galleries, Covid-19 has meant a slowdown and reorientation in the way exhibitions are produced and conveyed. Has this influenced your thinking?
KM: As museums and exhibition spaces closed, the art world put their artwork online and there was nostalgia for being in a physical exhibition space. And I thought back to the conceptual art of the '60s and '70s and how the idea was more important than the object. The idea of ​​moving from the fixation on the art object into a space of ideas, has not has really evolved since then.
If we close galleries and exhibition spaces, then the ideas should really be able to live on. There was this dissonance in terms of the meaning of the art object and that the object carries ideas beyond the fact that it is an object. Some of the online interventions attempted to recreate the exhibition space. I felt like we missed an opportunity to push the idea that was introduced by concept artists many years ago.
While the music scene has always been able to adapt to any technological change without losing its essence. Art, on the other hand, seems technologically deadlocked, it doesn't move.
SWI: I fear it will be hampered by the market.
KM: Yes, but the market is such a small group of people.
SWI: But it's often the way art comes into the public eye.
KM: We have to find a way out, right? Otherwise we have to accept that things are not moving.
Edited by Eduardo Simantob
In accordance with JTI standards
More: SWI swissinfo.ch certified by the Journalism Trust Initiative