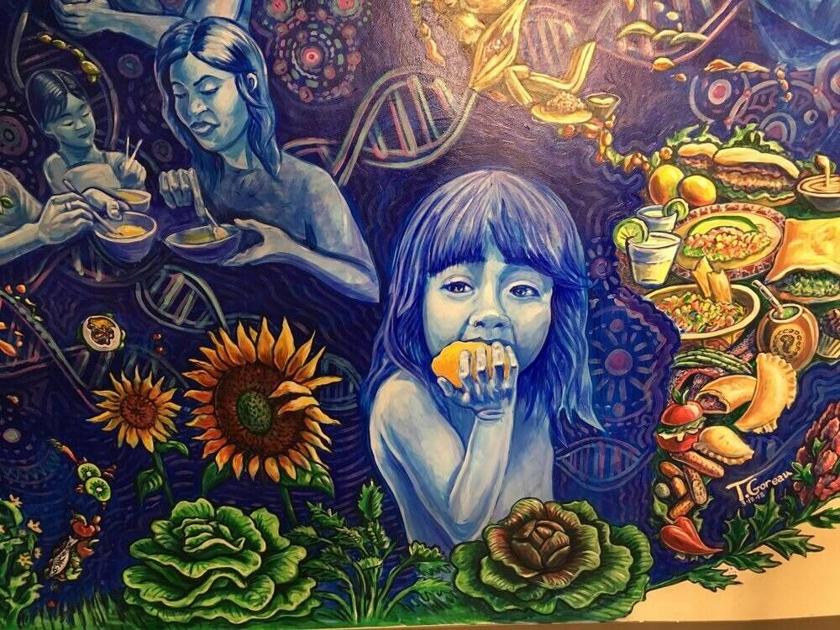 StJ Art on the Street debuts fall exhibition | entertainment
NS. JOHNSBURY – StJ Art on the Street announced its new fall show, featuring the work of several Vermont artists in store windows, on the sidewalk and in interior galleries along Railroad Street and Eastern Ave. The new show is free and open to the public.
StJ Art on the Street debuted during the pandemic when empty storefronts and shop windows were used as art galleries displaying works that could be enjoyed from the street or sidewalk. St. Johnsbury kept this walk-in gallery and added some indoor options, including the Catamount Arts and Cosmic Cup Café galleries on Eastern Avenue, and Whirligig Brewing and the Northeast Kingdom Artisans Guild on Railroad Street.
Art lovers can walk to the Shatterbox Gallery at 166 Eastern Avenue with works by. kick off Wall painter Tara Goreau. As a lifelong painter, Goreau has created large-format works to inspire and represent communities since completing her first public mural as a senior at St. Johnsbury Academy in 2006. Goreau earned her BFA from Johnson State College in 2011 after graduating from Design and Arts College of New Zealand in Christchurch. She worked with local students to create the 16-piece "Musaic Project" mural celebrating four seasons and four musical genres, and most recently a new public mural on the retaining wall next to Catamount Arts at 115 Eastern Avenue.
Go down Eastern Avenue and find Barbara Grays work at 142 Eastern. Gray earned her MFA from the University of Georgia in 1975 and worked primarily in fiber arts. She has shown her large, three-dimensional fiber installations both regionally and nationally and was director of the Quinlan Visual Arts Center in Gainesville, GA from 1980 to 1991 before moving to Vermont. Gray studied landscape painting in Italy in the early 2000s. Since then, she has found painting en plein air an inspiring way to explore and appreciate the Northeast Kingdom.
The Cosmic Cup Café on 139 Eastern Avenue displays photographs by art event photographers Jackie Fox. Fox's exhibition includes a collection of medium format film photographs depicting both urban and rural landscapes. This technique of photography is slow and methodical, which results in capturing moments of natural beauty that might otherwise go undiscovered.
Catamount Arts is currently showing two exhibitions. In the Fried Family gallery, "Open to the landscape" shows work by Elizabeth Nelson, Anni Lorenzini, Keith Chamberlin and Terry Ekasala, including paintings and photographs that explore landscapes in both realistic and abstract forms.
The Catamount Arts Fireplace Room features a collection of work created by community members during the pandemic. "Kingdom of COVID Chronicles" offers handmade sketchbooks by NEK residents of all ages documenting a month of life in lockdown in the spring of last year.
Stop at 67 Eastern Avenue to enjoy an exhibition of Kelly Doyle. Hailing from Montpelier, Doyle earned her MFA from the Pratt Institute in Brooklyn in 1990. Much of their work consists of converting existing materials into works of art. Recent works include paintings on blackboards salvaged when houses were demolished, protective covers that are no longer used, and reused work pants. Doyle enjoys recycling with creativity: taking the old apart and making something lively and new out of it.
At Northern Express Care on the corner of Eastern and Railroad, Andrea Pearlmans Works are exhibited. Originally from Hartford, CT, Pearlman has lived in Vermont since the 1970s after graduating from the Pratt Institute in Brooklyn in 1974. Pearlman's paintings reflect the inherent thrust and attraction of nature and the experience of dynamic movement. She mainly paints in oil, but she also paints carpets and uses strips of wool when working with fibers.
Painter for life George Pearlman will also exhibit work at Northern Express Care on Eastern and Railroad. Pearlman studied at the Parsons School of Design, the Pratt Institute and Brooklyn College and was mentored by Hans Hofmann for over thirty years. He has also worked as an administrator at the Vermont Studio Center in Johnson.
Harlan Macks Works are on display at Whirligig Brewing at 397 Railroad Street. Mack is a multidisciplinary artist based out of the Vermont Studio Center in Johnson, Vt. He uses blacksmithing, steelmaking, painting, and oral storytelling to build an expanding, constellated narrative that invites viewers and listeners into an imaginary future. This world is generated and inspired by Harlan's life experience, exploration and thoughts on identity, work, perception, contemplation, fiction, community, emergence and Afro-Futurism.
Cross the street to visit the Central Café at 418 Railroad Street to keep an eye out for work Photographer Shaun Terhune. Terhune grew up in Vermont and photographed green hills, cows, maples and pewter buckets. As a teenager, he hitchhiked into the wilds of the White Mountains to unlock a rugged isolation he couldn't capture anywhere else.
The Northeast Kingdom Artisans Guild is hosting an exhibition of the Arts Guild of Vermont book. "Is this a book?" questions conventional ideas with books that open like accordions, hang like paintings, or at first glance are mistaken for sculptures.
Cross Railroad Street again to see the dazzling work of the Ugandan native and Newport resident Mwanga William at Caplan's on Railroad St. 457. A graduate of the Michelangelo College of Creative Arts, William works with oils and acrylics, cement, clay and metal, as well as paper, wood and fiberglass. His paintings and sculptures reflect African culture and way of life, and his work can be seen in schools, hotels and churches across Uganda.
StJ Art on the Street is a public art collaboration between the Window Warriors volunteers of the St. Johnsbury Chamber of Commerce; Craftsman's Guild of the Northeast; Catamount art; Caplans; the city of St. Johnsbury; 142 east; Garrett Property Management; Aine baker; Rural edge; and Northern Express Care.