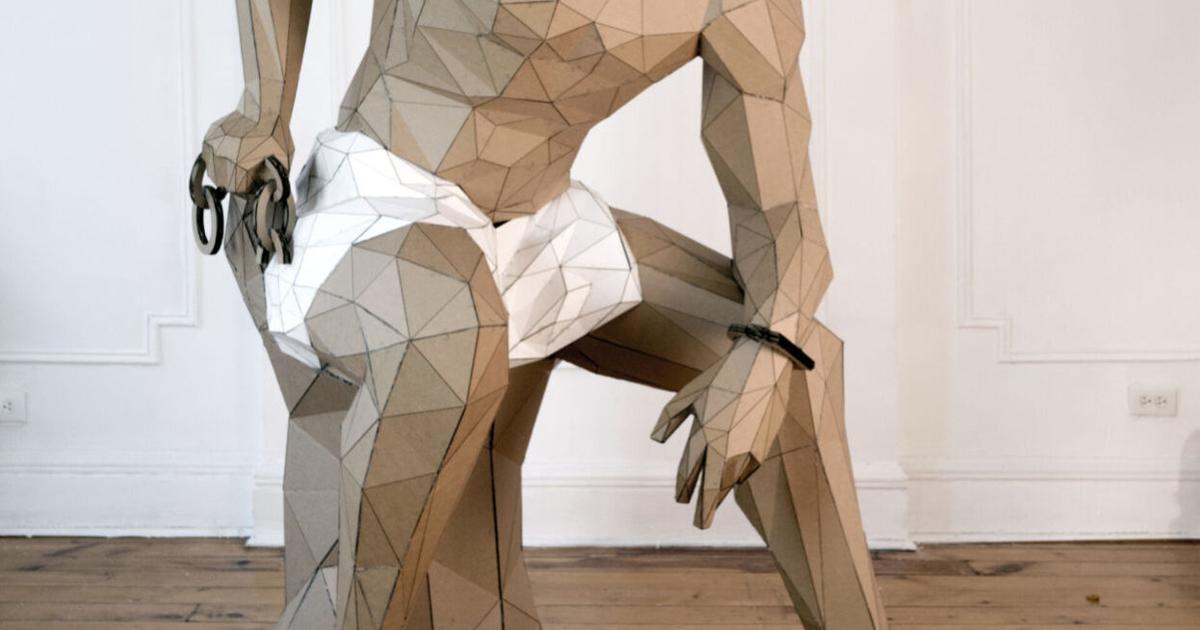 Seven new exhibits open at BMAC on March 12 | Vermont art
Seven new solo exhibitions open Saturday, March 12 at the Brattleboro Museum & Art Center (BMAC). Artists featured are M. Carmen Lane, Roberto Visani, Yvette Molina, Mildred Beltré Martinez, Sachiko Akiyama, Louisa Chase, and Anne Splitter.
In lieu of an opening reception, the BMAC will be celebrating the artists and curators on Saturday, May 14 at 5pm. The museum will remain closed March 6-11 to install the new exhibits and will reopen on March 12.
For the exhibition (í:se) Be Our Guest/Stolen, Cleveland-based artist M. Carmen Lane experimented with screenprinting to create a new work based on her family's personal story of displacement and dispossession.
"In much of her work, M. Carmen Lane draws on her experiences as an African American and Haudenosaunee (Mohawk/Tuscarora) to connect family events and history with broader narratives of intergenerational trauma and loss that are central to the 'American experience'", said Mildred Beltré Martinez, who curated the exhibition.
Curated by David Rios Ferreira, Form/Reform features Robert Visani's do-it-yourself cardboard kit recreations of well-known art historical objects related to the transatlantic slave trade, including sculptures by Hiram Powers, Jean Baptiste Carpeaux, and others.
"Visani shapes and reforms art historical depictions of enslaved people through research, digital modeling and laser-cut cardboard segments," said Rios Ferreira. "Like much of Visani's practice, these works examine the black body through a reinterpretation of historical artwork and artifacts."
"Big Bang Votive", an installation by Yvette Molina, is part of an ongoing community project in which Molina collects stories from people about what inspires joy or love in their lives and then makes an egg tempera painting of a representative object from each story . Since the project began, Molina has collected almost 300 stories.
"The paintings will fill the gallery and create a galaxy of shared joy and human experience," said Freeman, who curated the exhibition. "Big Bang Votive" provided an opportunity for collaboration between BMAC, the Windham Regional Career Center (WRCC) and the Vermont Folklife Center (VFC).
"Between Starshine and Clay," curated by BMAC Curator Emerita Mara Williams, features a diverse body of work by Mildred Beltré Martinez, Curator of the M. Carmen Lane Exhibition. The exhibition presents selected works from Skin in the Game, an ongoing series of figurative works in which the artist questions what she is willing to risk for her beliefs, and Slogans for the Revolution That Never Was, a Text-based series intended to subvert the idea of ​​"slogan".
"The art of Beltré Martinez is technically adept and imbued with an animating presence," Williams said. "Whatever form a piece takes, it always serves the conceptual and emotional themes of the artwork."
Through Lines consists of wood sculptures by Sachiko Akiyama, drawing on a variety of influences including the artist's Japanese-American heritage, personal experiences, family history and dreams, as well as Egyptian tomb sculptures, medieval Christian wood carvings and works by sculptors Constantin Brâncuși and Anne Chu. The exhibition is partially supported by the Japan Foundation New York.
"I'm interested in using tactile, assertive forms to describe the psyche — not a specific emotion or thought, but rather a state of focus and introspection," Akiyama wrote in a statement accompanying the exhibition. "I hope that the viewer can identify with my sculptures, that the personal becomes universal."
"Anne Splitter: The Wonder of It All" is BMAC's first-ever exhibition of non-fungible tokens, or NFTs. Splitter's NFT artworks are displayed across six video screens and explore themes of travel, outer space and the subconscious. Splitter is a digital mixed media artist who founded the original digital visual arts courses at Brown University and the Rhode Island School of Design (RISD) and authored the textbook The Computer in the Visual Arts.
BMAC will present numerous in-person and virtual events over the coming months, including talks by M. Carmen Lane (March 31), Sachiko Akiyama (April 7), art historian Renée Ater (April 21), Elissa Watters (May 19) . ) and Roberto Visani and David Rios Ferreira (May 26).
In conjunction with the Yvette Molina exhibit, BMAC is offering Storytelling with Alexandra Antohin, Director of Education at the Vermont Folklife Center (April 14), Night Skies & Stories at the Bonnyvale Environmental Education Center (BEEC) (May 14), and a storytelling ritual with Yvette Molina (May 15).