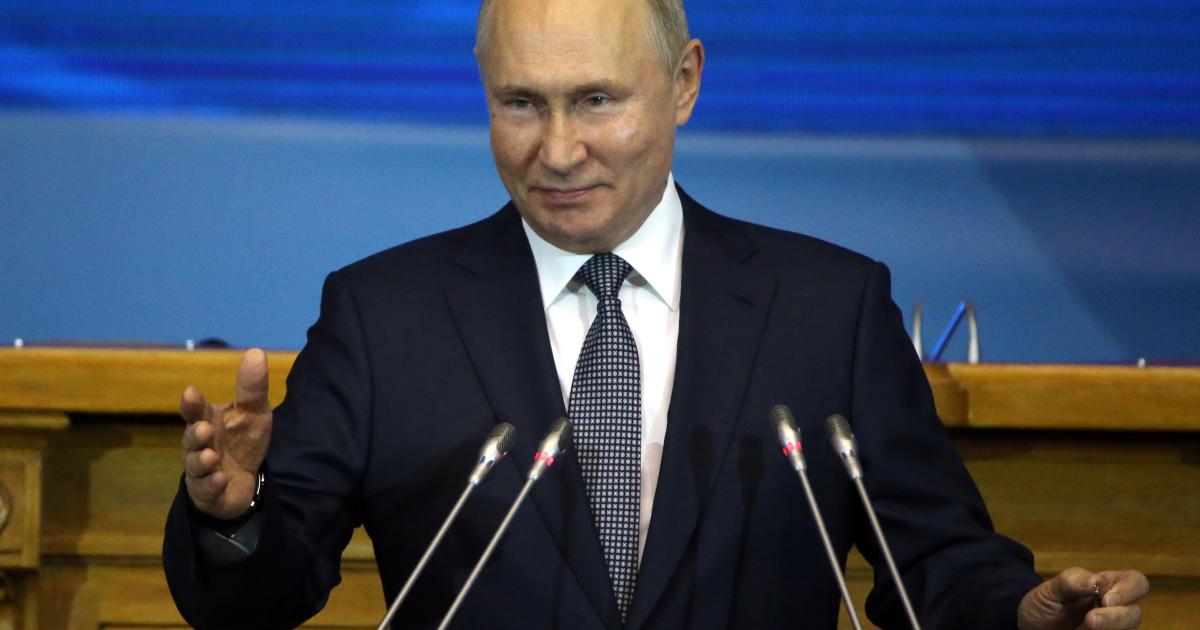 Putin feels the weakness of the West and is gaining strength in Europe
Vladimir Putin has always had a keen eye for opportunities. Now when he looks out over the west, it looks like he smells blood in the water.
The American president, divisive and unpopular at home, has also proven incompetent and weak abroad. The lamentable political mistakes of his administration – the collapse of Nord Stream II (NS2), the disastrous withdrawal from Afghanistan, the failure to respond to the Havana Syndrome's systematic attacks on US diplomats and intelligence officials – have sent signals of appeasement to the read loud and clear In Moscow.
Europe, for its part, appears scattered and rudderless. The German change in leadership is still being worked out; The only thing that is certain is that Chancellor Merkel's successor will not come into office with the same strength. The French are heading towards an election year and will of course turn inward. While the EU continues to fight recalcitrant members who do not fully profess their ruling orthodoxy, it has not found the time to come up with a convincing plan to counter the hybrid attacks from Russia, let alone those from China.
Putin recognizes the moment, and when the temperature drops, he turns up the heat, producing a series of simultaneous crises to divide, depress and weaken Europe. He "armed" migrants to destabilize Latvia, Lithuania and Poland. He uses the energy war to pressure Europe to quickly certify NS2. He is fueling separatism in the Balkans and threatening to expand and intensify Russia's ongoing war against Ukraine.
>>> How NATO can avoid the death spiral on Europe's border
For the past four months, Belarus has been waging an intense hybrid war against its neighbors, encouraging migrants from Afghanistan, Africa and the Middle East to travel to Minsk. . . and then drove with buses and rifle butts to the border with neighboring Latvia, Lithuania and Poland. Belarusian authorities beat migrants there, deny them essentials and sometimes physically force them to illegally break the border.
Faced with this 24-hour attack, the Eastern European nations have dispatched additional border guards and troops and started building walls and fences. Poland alone has 15,000 soldiers stationed on its border with Belarus.
While the Belarusian strongman Alexander Lukashenko is a vengeful sociopath, it has been clear for some time that he is no longer the master of Minsk. This week Prime Minister Mateusz Morawiecki of Poland clarified, "This attack, which Lukashenko is carrying out, has its line in Moscow; the mastermind is President Putin. "
For Putin it is a well-known and popular playbook. Russia has used its position in Syria to arm an outflow of migrants to Europe while facilitating the illegal passage of migrants across Russia's northern border with Finland and Norway.
Russia knows that nothing in Europe has proven more divisive and difficult than the large influx of migrants. The ugly treatment of migrants that prevailed in some corners of Europe in 2015 is long gone, but Putin knows that a hardened border offers other options. Moscow will certainly use colder temperatures to highlight the suffering of migrants (which it will cynically blame the West for) and thereby wrongly portray the European nations as wantonly cruel. The fact that Poland and Brussels are currently arguing over judicial reforms and sovereignty issues makes Putin's timing all the better. On Tuesday, Russia's foreign minister had the nerve propose that Europe pay Belarus to end the hybrid war at its limits, a classic blackmail tactic of a tyrant.
Further south, Russia is again gathering troops on the Ukrainian border. According to Ukrainian officials 90,000 Russian troops have gathered along the border and in the occupied Donbass. Russia reportedly relocated "at least one battalion" also from tanks closer to the front.
Russia's actions may be in response to Ukraine's recent deployment of a Turkish drone, despite the continued use of armed drones by Russian and Russia-backed separatists. The Ukrainian troops largely forego the use of drones in order to avoid further escalation. Moscow's saber-rattling is no doubt supposed to put pressure on Ukraine, which is already in Russia's energy crosshairs. Russia may be hoping the consistent pattern of troop pull-ups and pull-outs will desensitize the Ukrainian armed forces before launching a new offensive at some point in the future.
Ukraine has been under attack since 2014. The recent completion of the Nord Stream 2 pipeline has given Moscow more leeway Reduce gas transit through Ukrainestarving the nation of vital revenues, much of which is needed to defend itself against Russian attack.
The timing of the Russian energy warfare could hardly be more favorable for Putin. In September, Gas storage facilities in Europe hit a ten-year low. Just this week, Gazprom start refilling five gas storage locations in Europe. High gas prices have been a boon to Kremlin finances, and as winter approaches, Russia is trying to use its European energy dominance to push for a swift certification of Nord Stream 2, ideally before a new government in Berlin takes over Putin's favorite project less accessible.
>>> It's over for the US military base in the Baltic States
Finally, in the Balkans, Russia has long supported the Republika Srpska in order to thwart Bosnia-Herzegovina's dreams of fully joining the transatlantic community. The situation recently reached a crisis level, fueled by Milorad Dodik's movements Republika Srpska to separate from the Federation of Bosnia and Herzegovina.
The Balkans have long been the soft underbelly of Europe, and Russian agitation has tried to stir up instability in the region. As recently as this week, a British minister stated that in the ongoing crisis, he sees "the hand of Russia in the game".
While the US is domestically troubled and led by a president who is either unable or unwilling to show strength and with a distracted and rudderless Europe, Russia is counting on it by creating crises on several Fronts will continue to divide Europe and weaken the transatlantic alliance.
This fall, geopolitical temperatures in and around Europe will reach a boiling point. If the West does not work together to ease growing pressures, the transatlantic alliance will face a long, hot winter.