Porous Gallery is dedicated to the art of trash in The Discarded – The Columbia Chronicle exhibition
Abandoned shopping trolleys, rubbish bins and used stuffed animals adorn the Porous Gallery in the latest installment of The Discarded exhibition.
The Discarded is located at S. Wabash Ave. 623 in Room 411 and is an experimental curatorial project by co-directors and curators Ryan Lucas and Grace Papineau-Couture. The exhibition highlights abandoned materials that have been found on the streets in the hope that they will give the creators a new purpose.

Lucas and Papineau-Couture, sophomore and first-year Fine Arts graduate students, respectively, invite their visitors to think conceptually about trash in hopes of shedding light on materials that no longer serve the general public but can as something New to be repurposed.
For the second exhibition at the Porous, Papineau-Couture also wanted to show work by artists that were unfinished or left over Materials they used to create and give the piece new life by presenting the unfinished artwork as something fresh and different.
"Right now it's very focused on found objects," Papineau-Couture said. "So anything that we see on the street that we're visually attracted to or feel we could present as an object rather than just a piece of junk. That's our main deciding factor: can we show this as something that can be read as an object, rather than street junk?
Lucas said to make new art, the artist has to go through scrapped concepts and abandoned pieces before they're finished flaunt.
"Conceptually, trash in general is something that we exploit, and some of the things you find on the ground are the things that you exploit — everyday objects," Lucas said.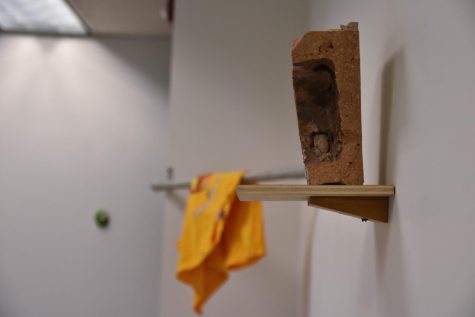 The directors gave meaning to the already used objects found on the street to emphasize the important role they play in the artistic process.
"[It is] an exploration of ingenuity and how you use the environment around you without necessarily having to buy something new," said Papineau-Couture. "How to re-imagine things around you that you thought might be useless or useless?"
Lucas and Papineau-Couture said they hope visitors can re-evaluate their relationship with used materials and everyday objects that can be used to create works of art, as the possibilities are limitless.
Debra Parr, Associate Professor in the Department of Art and Art History, said she was "pleasantly surprised" at the items featured in The Discarded and how they contribute and are to the overall artistic vision tangential to the creation of art.
Devoid of the use of frames and pedestal showcases, The Discarded is a break in the way typical artworks are presented.
"It was sort of a fun reminder of what we expect to find in a gallery environment, in a way," Parr said. "When we're a bit confused as to where one piece begins and where another ends, it was a really beautiful and thought-provoking way to break up the experience of viewing the singular Artworks clearly defined by frames and dots."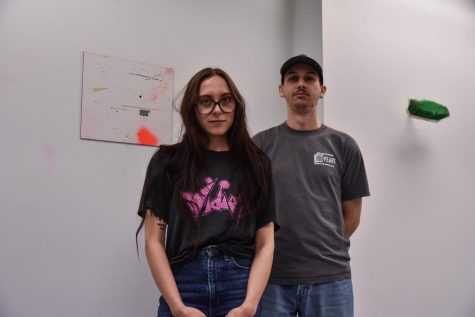 The Discarded has a sustainable aspect of sourcing used goods that artists can use in their later projects.
"I think artists, designers, filmmakers [and] Musicians should always be very mindful of the type of garbage they produce when making a work of art," Parr said. "I wonder if artists could pay more attention to what happens to the work after they make it; for example if it was for an assignment because I think you have limited storage to keep everything efficient – ​​how could it be recycled or reused for another project?"
Parr visited the gallery with her art history class and said it challenged the students' expectations of the exhibition.
"I found it interesting to hear from the Fine Arts Management students who were able to see that whatever standards and rules they were trying to master in their skills for their program were discarded and not adopted," Parr said. "I think they found it funny and also kind of eye-opening."
The exhibition 'The Discarded', which opened on November 10th, runs until December 15th at the Porous Gallery and is open on Thursdays from 1pm to 3pm. For more information and the latest projects from Porous, visitors can listen to the Porous Gallery podcast.