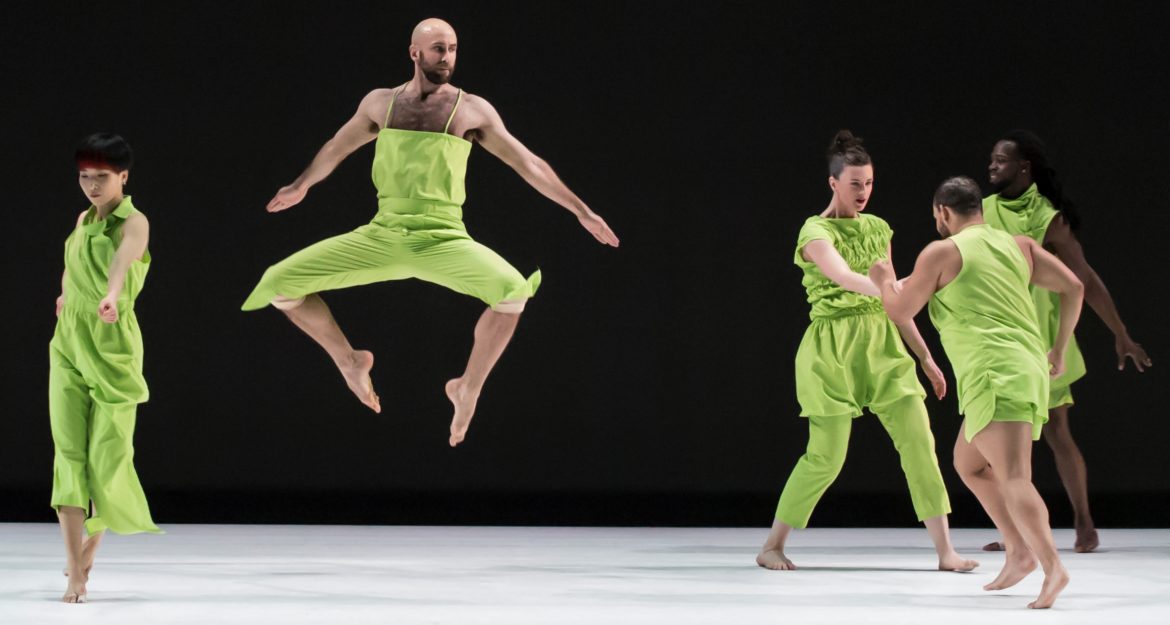 Peak Performances Premieres Netta Yerushalmy's "Movement"; Invention work contains a variety
"Movement," which has its world premiere this week in the Peak Performances series at Montclair State University, includes steps previously seen in everything from the Philip Glass/Robert Wilson opera Einstein on the Beach on Britney Spear's "I'm a Slave 4 U" video. That's kind of the point.
Choreographer Netta Yerushalmy and seven dancers – Burr Johnson, Catie Leasca, Christopher Ralph, Caitlin Scranton, Jin Ju Song-Begin, Hsiao-Jou Tang and Khalifa Babacar Top – created this work together, using elements from more than 100 dances. The dancers come from different countries and of course have different artistic backgrounds, so that a large variety of movement was guaranteed.
"The movements of Move were smuggled into the rehearsal room in the bodies of the dancers," write Yerushalmy and the play's dramaturg, Katherine Profeta. "Virtually every step in this play has a prior personal relationship with at least one of the performers. Virtually no "new" steps were created here. "
Yerushalmy and Profeta also compared the technique of "movement" to sampling in music, where an artist (typically a hip-hop record producer) takes a piece or pieces of previously recorded music and puts it in a different context to mean something different create .
Helpfully (for those of us who don't have an encyclopedic knowledge of dance history), some of the dance sources were shared on a screen at the end of the piece as the dancers continued to dance.
Folk dance, classical dance, modern dance, yoga poses, Hollywood-style struts and more all made it into the play. The dancers could be as delicate as a ballerina or as boldly stimulating as a member of the Chippendales troupe. Parts of the 70-minute piece were clearly reminiscent of birth and death. In addition, the viewer could project nearly every element of life onto the rapidly changing segments.
Paula Matthusen's slowly changing and often blurry electronic score reflected this and even included some sound effects reminiscent of hip-hop scratching (to accompany the sampling).
Dancers performed in different combinations – sometimes in close coordination with each other, sometimes lost in a world of their own. The rhythm was the rhythm of life itself, with meditative pauses followed by bursts of feverish activity. Often one or more dancers left the group and started something new; this would then be integrated into what the other dancers were doing and 'movement' would morph into something else. The only constant was change.
"We 'contain a lot,'" Yerushalmy and Profeta wrote. "What if we didn't just think of Whitman's thinking in terms of perspectives or personalities, but all these well-worn, popular patterns of movement?"
With plenty of humor laced through its dizzyingly abstract narrative, "Movement" should appeal to both dance novices and those better equipped to analyze the sources of its choreography.
The remaining performances of "Movement" are March 18 at 7:30 p.m., March 19 at 8 p.m. and March 20 at 2 p.m. at Montclair State University's Kasser Theater. Visit peakperfs.org.
We need your help!
CONTRIBUTION TO NJARTS.NET

Since launching in September 2014, NJArts.net, a 501(c)(3) organization, has grown to become one of the premier media outlets for the Garden State's art community. And it has always offered its content with no subscription fee or paywall. Its continued existence depends on the support of the scene and the country's art lovers. Please consider making a $20 or other contribution to NJArts.net through PayPal, or mail a check made payable to NJArts.net to 11 Skytop Terrace, Montclair, NJ 07043.