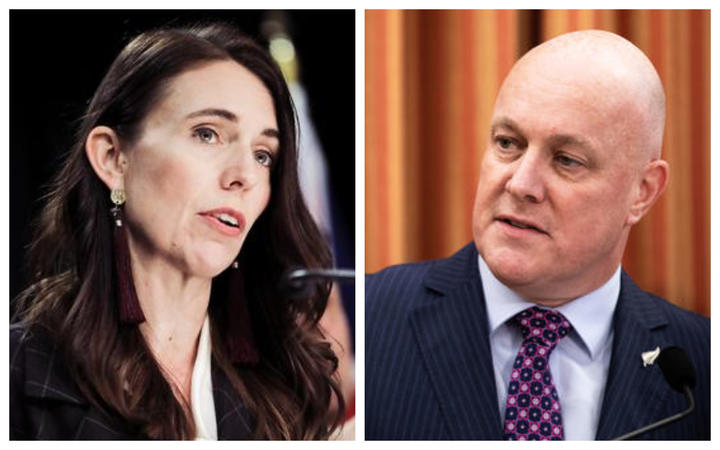 Omicron will not be the end of the Covid pandemic – Ardern
Prime Minister Jacinda Ardern and Opposition Leader Chris Luxon launched scathing attacks on their opponents in their opening speeches to Parliament this year.
Ardern today delivered her Prime Minister's statement to the first session of Parliament in 2022, warning as New Zealand enters its third "challenging" year of the Covid-19 pandemic that Omicron is unlikely to be the end.
In her opening address to Parliament this year, she also addressed the opposition's approach to Covid-19, housing and infrastructure.
She said the expert advice was that Omicron would not be the last variant and New Zealand could expect new and different variants in the future.
"It is advice… which I note, unfortunately, the opposition has chosen to ignore. They declared the first of December 'Freedom Day', the day the borders should open, even though the World Health Organization had declared Omicron a variant of concern and the booster campaign had only just begun.
"They claim they are ready to deal with the pandemic because they declared it over. They were wrong then and they are wrong now… it's not over but that doesn't mean we can't move on."
Ardern outlined the measures being taken to avoid the worst of the outbreak, including the introduction of boosters.
As schools returned for the New Year, she said given the damage it would be doing to student learning and well-being, the government would only close them as a last resort in response to significant outbreaks.
She said other challenges would also require the kind of planning that went into the government's Covid-19 response, including the resurgence of infuenza; the need for healthier and drier homes; keeping children in school; and build more social housing.
"Kainga Ora and the community housing providers will provide over 2000 additional social housing units – that's on top of the 8700 that have been delivered since November 2017 and while I'll find some members in the front bench of the opposition will laugh, these are numbers that will far surpassing anything government has ever managed to build…where their focus has been on selling off public housing stocks rather than building the homes we need.
The healthcare system also urgently needs to be reformed, she said.
"It's not true that the care you get in this country can vary so much depending on where you live."
She said the Māori Health Authority is "absolutely crucial" in tackling inequality in the health system given that Māori die on average seven years earlier. It's not about separatism, she said, "it's about achieving equality, which we don't currently have in this country."
Work to remove barriers for people with disabilities and expand the "Enabling Good Lives" model for disability services is well overdue, she said.
General practitioner mental health and addiction services would be accessible to more than 2.7 million New Zealanders this year, she said, "a sea change in the way New Zealanders access mental health services".
She highlighted the impact of mental health issues on small business groups and the rural sector, particularly in the face of Covid-19, and pledged to work with those sectors this year.
The recovery from Covid-19 in New Zealand must not be a return to normal business, she said.
"We are better than that, in fact we were elected to address the challenges that have held back too many for too long. Therefore, our economic plan is to create a high-paying, low-carbon economy."
She pointed to free trade negotiations with the EU and its planned delegations to Asia and America, but said the key point in the government's plan is infrastructure.
"Historical underinvestment in infrastructure has been a handbrake on our economy, so we're planning for the next 30 years rather than election cycles."
It also included a pledge to "solve the problem of persistent underinvestment in our water supply," signaling the government's intent to move forward with its three water reforms.
Tackling climate change is also a key part of the strategy, she said.
"Other countries are trying to compete for and seize these opportunities and New Zealand cannot afford to be left behind. Not economically and also not morally."
"The opposition claims they share our climate ambitions. Then why have they opposed almost every initiative that would lower our emissions profile? Climate change is a challenge we cannot defer, just like child poverty, just like housing, just like mental health."
Ardern said today the peak of New Zealand's omicron outbreak could be in late March.
Luxon answers
National Party leader Christopher Luxon requested that the House of Representatives erase all words from Ardern's speech and replace it with "this House of Representatives has no confidence in this Administration which comes back to Wellington at the beginning of each year with more promises it has no intention of keeping." , and does not deliver".
He said the National Party is "ready" and that Kiwis are fed up with one government not getting things done.
"A government that turned out to be what? Everything spinning and no delivery. This government has never solved a problem it didn't think it could solve with just a little more government, a little more Wellington, a little more centralization, a communications plan, more bureaucracy, and less input from affected communities."
He said the government was out of power and would be voted out in less than two years.
"This government is confusing words with action and they are two very different concepts and now here we are with an overheated economy… and it expresses everyday New Zealanders."
New Zealand suffered from a "productivity sickness" and government spending led to a "cost of living crisis", pointing to the price of a block of cheese and unsustainable rents.
He said the government promised to solve the housing crisis but made it much worse.
"This from a Prime Minister who has promised to build 100,000 Kiwibuild homes in 10 years, but here we are, we are in four years and how many more do we have to build? Another 98,000 homes."
He said one of Ardern's first promises is a tram from the airport to Mt. Roskill, and all that has been delivered is a new price tag of $15 billion.
"My guess is that for all of this, the government could actually go out and buy each of the five million people a brand new, state-of-the-art, fancy e-bike and they'd still have billions of dollars left over to invest."
He said the country's mounting debt had to be repaid, meaning it was unable to invest in better public services and raise taxes.
"Labor broke that campaign promise not to pay new taxes in a fairly short space of time. What we saw was the push through of a secret capital gains tax, which was quickly followed by the infamous Ute Tax, and as if that wasn't enough, Grant Robertson has now come up with another brand new tax – this time he wants it for every single worker and impose on every single company in New Zealand."
He also criticized the three water reforms and said local government minister Nanaia Mahuta will soon be out of work.
"She made her decision on day one, she settled on a model, she went through a mock consultation process with the local government and although she said it was voluntary, lo and behold, she has now compulsorily acquired the assets.
"Grant Robertson is worried, right, he's been studying those polls over the summer… he's going to come in and crush those reforms too. They remember my words."