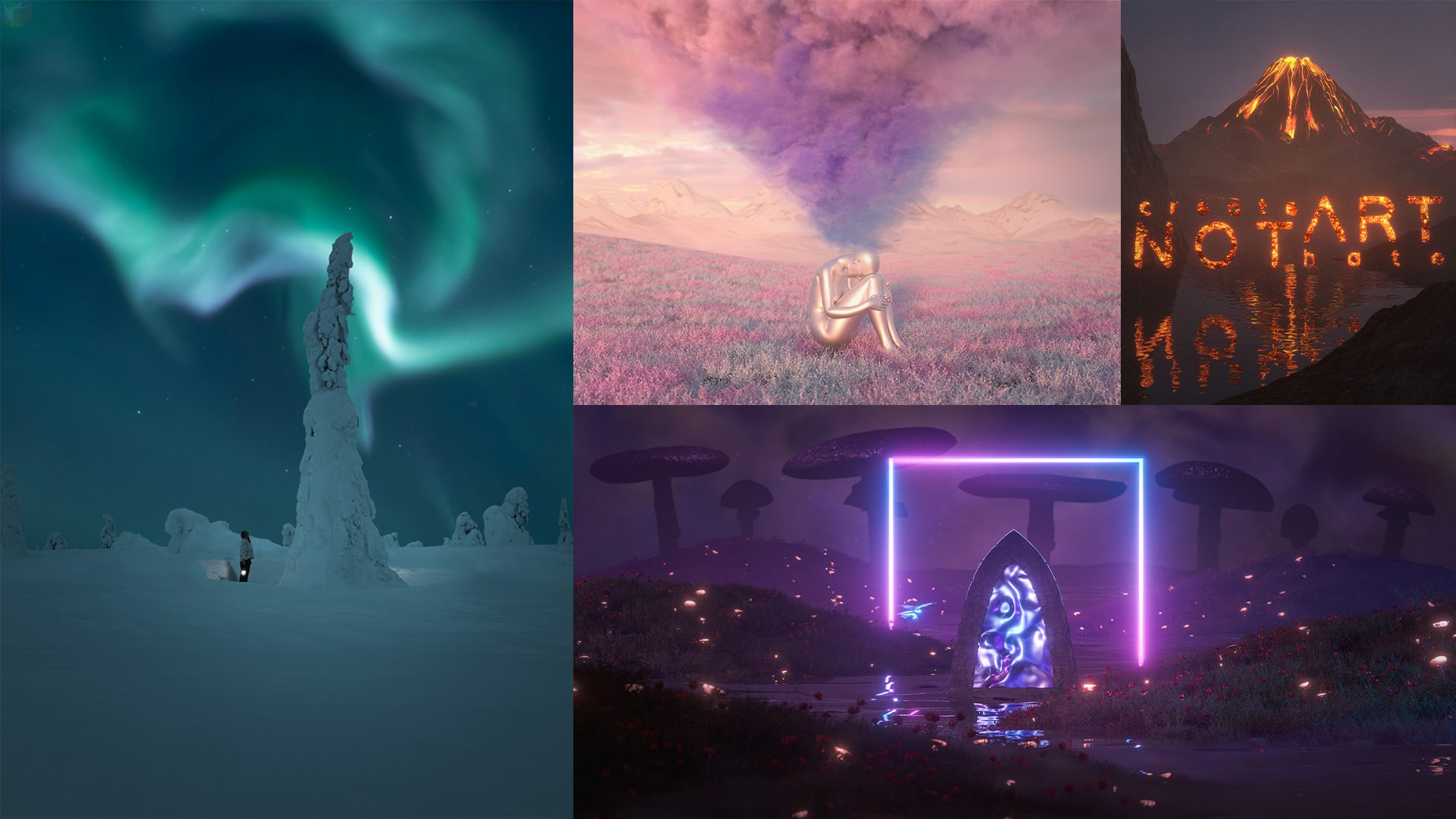 Michelle von Kalben NFT artist interview | NFT Culture | NFT News
Today's amazing NFT artist interview is with the phenomenal Michelle von Kalben, whose amazing 3D art is collected by some of the top NFT collectors on SuperRare, some of whom are selling around 10 ETH. We are incredibly grateful for the opportunity to do this interview.
Where do you come from?
I was born and raised in Germany. Before starting my career as an artist, I lived in New Zealand for a year and tried to open myself up to new perspectives. I don't think I would be where I am now without this experience.
Can you tell us a bit about your background and what got you on the path to becoming an artist and ultimately experimenting with NFTs?
I briefly mentioned my year abroad in the previous question. New Zealand is one of the most beautiful countries I have had the privilege of visiting. Seeing all these incredible photos from there made me appreciate the country on a whole different level. That was the first time I felt the urge to capture the beauty of the earth. Back in Germany, I bought my first camera in 2017 and started photographing nature every day. It took me 2 to 3 years to feel more confident in my work and then I started learning composite photography. This basically means that I take several different images either in the same place or in different places and then combine them in the editing process. I switched from what I see when I take the pictures to what I feel about it. During the quarantine I lost all motivation because I couldn't do what I love the most: travel and explore. That's when I started learning 3D, which is a different but equally important part of my career that I'm mostly focused on in the NFT space as it allows me to tell better stories.
Many of my motives for certain life decisions have always been excitement, passion and curiosity. When I first heard about NFTs, it lit a fire in me almost immediately. It didn't take long for me to try it myself and since joining the space my life has changed in so many different ways.
When did you coin your first NFT? Which platform did you choose and why? I minted my first NFT on Foundation exactly on March 31, 2021. Of course, I didn't know enough at the time to judge which platform best suited what I'm creating, but overall I had a good feeling about Foundation, and it turned out to be the start of a wonderful journey.
Can you tell us something you can't live without?
This is a tough question as there is definitely more than one thing. Traveling and creating art is one of them. Personally, I can't create art without traveling because that's where I look for inspiration, where I can clear my head and recharge my creative batteries. Although I mostly create art in 3D software, discovering new places in the real world helps me immensely to bring my vision to life.
Who is your favorite artist
Ryan Talbot is an artist that immediately comes to mind. His work is very unique and dreamy and just seeing his character "Lily" exploring the world makes me feel better immediately.
What made you pursue NFT art?
To be honest with you, I started out hoping to earn an income doing what I love – creating art. Very quickly, however, I realized that there is so much more – community, innovation, the opportunity to be a part of something so meaningful – that's why I stayed.
What's the one NFT artwork you wish you bought but missed out on? Any piece created by Ryan Talbot – as I have great respect for his skill. Except for the azukis – I love art and was about to pull the trigger when they got way over my budget. And of course Bored Ape, but back when they launched I didn't buy NFTs as an investment, so I didn't realize at the time that they could become this amazing community.
If you could travel anywhere in the world, where would you travel to? Why this location? Greenland, New Zealand on camera and Saudi Arabia – but basically everywhere I'm blown away by its nature. Greenland and Saudi are quite opposites, but I would like to experience both. Greenland for its incredible icebergs and northern lights, Saudi for its culture and deserts. Saudi Arabia is misunderstood in many ways in my opinion, which makes me all the more curious to experience it for myself. New Zealand made it onto the list even though I lived there for a year because I travel very differently now and nature evokes a lot more emotions in me than it did in 2016.
What are other passions besides art? Why?
food and sports. I'm honestly the biggest foodie you'll ever meet. I love experimenting with new recipes, but of course also eating out. I (unfortunately) only recently rediscovered sport because I constantly felt unfulfilled and unmotivated. I stayed up late, slept late, and generally treated my body and mind very poorly. Changing a few things in life, including exercising every day, helped me regain my balance.
Do you do other art forms?
Within the NFT space, as I said before, my focus is on 3D art. But photography will always be one of my greatest passions, which is why I carry a 15kg camera backpack with me wherever I go or travel.
How did you come up with your special style?
This question hits a weak point as it is my only insecurity about my art. I don't have a specific color scheme or a recurring theme in my art that you can tell immediately belongs to Michelle von Kalben. My style is a combination of nature and storytelling. Since I absolutely hate to limit myself to anything, I always follow my gut, I'll do whatever feels right at that moment for that exact purpose. Sometimes these are green northern lights over a snowy landscape, sometimes they are magical portals in a volcanic landscape. I always think of a plot first and plan the art based on what I want to communicate second.
How has your style evolved over the years?
When I started my creative journey, I loved to oversaturate everything I captured with my camera. Immediately after that, the phase of desaturation and low contrast began. At this point I've found a way to balance that, but what's always stayed the same is that I want it with my images or animations
look clean. When I take pictures of nature, I've often spent hours cleaning up the pictures because I think it makes an insane difference.
What's coming in the near future?
I have two exciting projects I'm working on. One of them is @NFTKollabs, which was actually founded by one of my collectors who I had the privilege of meeting personally in Miami. I will be one of three artists in this project and the main goal here is to give back to the community and find ways to support as many new artists as possible. Another project is still in its infancy, but it will be a small collectors project that will have quite innovative aspects.
If you could work with an artist who would it be?
I guess at this point I don't even have to name him anymore. But the name starts with "R" and ends with "yan". It would be the greatest honor to work with him on a nature scene with Lily the Robot.
Do you have upcoming drops?
Not at the moment, but I create art every day. Since I've been feeling pretty bad for the past few months, I've been a bit inactive in the community. Changing that is my primary goal for the time being. I want to connect with as many artists and people in the space in general as possible. I also plan to reward not only my past collectors but everyone who bids on my artwork as a token of gratitude. So I'll just focus on what's already there.
connections
Instagram: https://www.instagram.com/michellevonkalben/
Twitter: https://twitter.com/michellevonkalb
Very rare: https://superrare.com/michellevonkalben