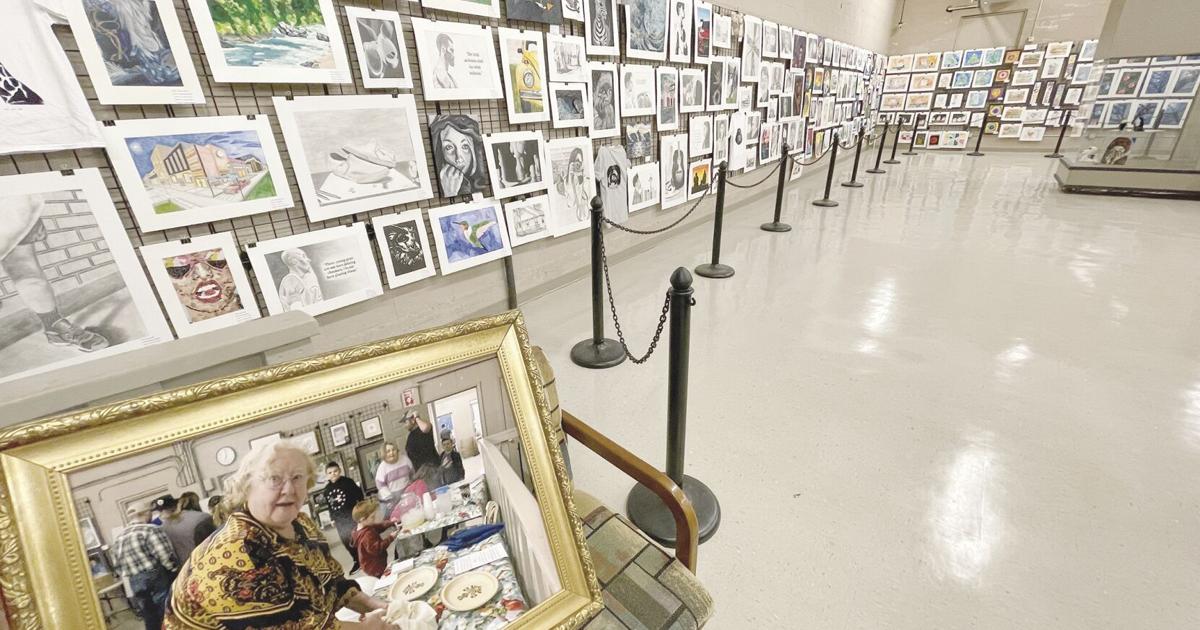 Local Artists Featured in Art Across the Ages Exhibition |
The Salem Area Arts Council is hosting Art Across the Ages at the Ozark Natural and Cultural Resource Center (ONCRC) through March. The exhibit consists of artwork created by members of the Salem community including K-12 from R-80 and RI, II, III and IV. Adult artists also featured in the show including Billie Jean Blaylock Boley, Dennis Box, Creative Arts Center instructors Tana Kettner and Danielle Norris, Pastor David Kettner, and Hannah and Luke Heithold.
Angela Dingess, R-80 art teacher, guided students to show their art by showing theirs as well. "I'm trying to lead by example," Dingess said. "We have so much talent at Salem R-80 and the surrounding schools and communities," she said.
"I now appreciate that it takes courage to exhibit your artwork," Dingess shared. Visitors can find her acrylic painting titled "Forever Friends," which is a triple portrait featuring her niece, Kierra Kattelman, and her two fur babies, Bella and 5-0.
Dingess also contributed a barn quilt she made during one of the classes at CAC taught by Terri Welch and Tana Kettner. "I was researching various barn quilt patterns and landed on 'Carpenter's Square,'" she said. "I was intrigued by the folklore to suggest this was used as a code during the Underground Railroad era; According to some sources, the carpenter's wheel is also said to have religious significance, honoring the master carpenter in people's lives – Jesus. I chose the colors of our American flag because I love the freedom and security that our country offers," Dingess said.
You'll find their work along with all the other talented local artists at ONCRC at 202 S. Main Street in Salem, open weekdays 9am-5pm for the rest of the month. Free entry, everybody is welcome.