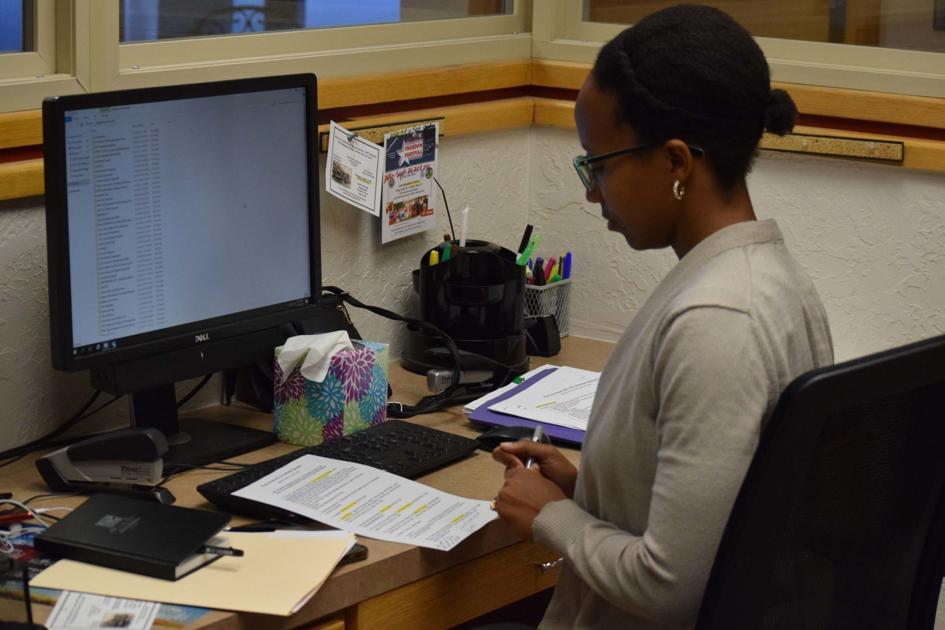 Kylila Rice new City of Lawton Arts Coordinator | Styles
[ad_1]

Kylila Rice, Lawton's new arts coordinator, is ready to put local artists in the spotlight.
"The most exciting aspect I'm ready for is meeting all the people. I enjoy telling my story and I want to be an opportunity to support other people's stories, "said Rice.
Rice sees the Lawton parish as a city for artists of all kinds. She believes that artistic talent is abundant in the community and that artists, with the help of the community, can receive appropriate recognition for their work.
"I see a community that values ​​art and artists, so I think it would be great to introduce these local artists to the community," she said. "The talent is there and I hope to be able to support and encourage the artists better."
Less than a week after the new job, Rice sees the general acceptance of art in Lawton. As a spouse in the military, she aims to continue bringing art to the military community to help veterans express and showcase their art. Seeing artists all over town, expressing oneself, being heard and sending messages is the aspect of art that touches Rice deeply.
"I'm really excited to be able to get closer to the military community through art here in Lawton / Fort Sill, and a place where they can interact with that art," said Rice. "I want residents and guests to enjoy Lawton / Fort Sill because our art community is so wonderful."
A native of Tampa Bay, she was in fourth grade when she became interested in the world of the performing arts. Rice composed songs to perform in front of her class, which sparked her infatuation as a performance artist. She took that with her into her secondary school career and was one of the top three spoken word poets in the state of Florida. Rice graduated from Middleton High School in June 2010.
Less than a month after graduation, Rice had to report to the United States Military Academy Preparatory School at West Point by the end of the month. At 6:00 am on June 27, 2011, during the A-Day Admission Ceremony, Rice became a cadet at West Point. There she spent two years returning to the art department of the academy. Rice became president of the African American Art Forum and president of the theater club. She was also the event producer for a performance collection of poems, songs, and dances in honor of Black History Month.
After spending two years at West Point, Rice left to work in various other organizations. From a licensed street performer in Cambridge, Massachusetts to a freelance journalist covering Nelson Mandela's ceremony in Washington DC, her art company has toured different parts of the spectrum.
"If more people knew how to express themselves through art, society would be in a much better place," she said.
After moving from West Point, Rice started her own blog called Poetic Change to post her poetry. Soon she would be receiving art and poetry from cadets at West Point and civilians everywhere.
"The main goal of the blog was to heal people and connect with me to help transition out of the military as well as me," she said.
In late June and early July, Rice and her husband were preparing to move to Texas, where the couple was originally supposed to be stationed. After changing plans, the duo were eventually stationed at Fort Sill, where Rice applied for the position of arts coordinator for the city of Lawton.
"Kylila brings a wealth of experience to the position and I am excited to see the new opportunities for the Lawton community to get involved in the arts," said art administrator Jason Poudrier. "Her desire to connect people with art and her past experiences are exemplary of the type of work she will bring in. As long as she is in position, I see good things for the City of Lawton. "
Just a week into her tenure, the excitement only mounts for Rice. She is excited and happy to be back in the Lawton community, ready for the journey ahead.
"I'm ready to bring some excitement back to Lawton after a year of COVID. Let's make Lawton for fun, and I believe art can, "said Rice.
[ad_2]