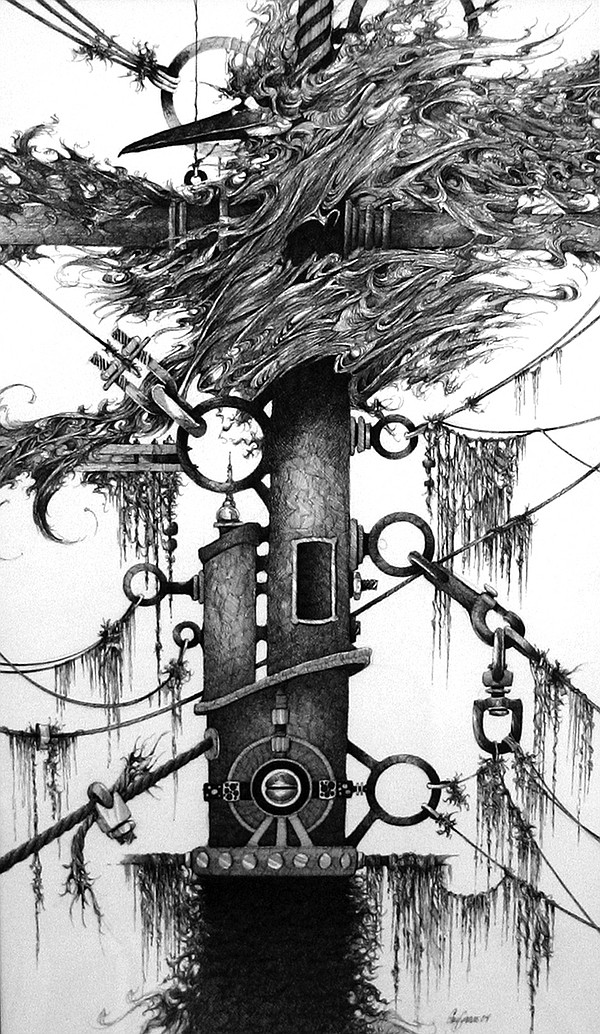 July exhibition announced at Justus Fine Art Gallery
The July exhibition at Justus Fine Art Gallery, 827-A Central Ave., focuses on "Art and History" and features a selection of works by artists including Randall Good, Gary Simmons, Jeri Hillis and Rebecca Thompson.
The show will host a reception Friday from 5:00 p.m. to 9:00 p.m. as part of the monthly Gallery Walk in downtown Hot Springs.
The exhibition can be seen until July 31st.
Following the opening of the exhibition, the gallery's second "Tea Talk" will take place on Saturday from 10:00 to 11:00 a.m.
Good will give a short talk on "A Fruitful Partnership: History and Art" with Simmons and Hillis, in which they will also discuss the role history plays in their own work.
In the 2007 exhibition In The Company of Angels, Good began "to explore a personal creation myth, inspired by a variety of sources from the classics of Homer and Ovid, through the myths and religions of the world, and eventually the… restless nature touched by beings blessed or burdened with self-knowledge," reads a press release.
"This new theme, which Good has developed in harmony with his writings, is presented through the tradition of Florentine disegno fused with a highly personal interpretation of the human figure to become a vehicle for remarkably modern expression," states in the publication.
"I believe that life goes beyond mere existence and reaches the profound through an exploration of the fundamental concepts of love, loss, honor and sacrifice. My works, whether they spring from my original contents or from the canon of religious and mythical stories, depict beings. I express these archetypal elements in paintings, drawings and writings, using a compositional and figural language that engages the viewer not just in an intellectual one contemplation, but invites a personal contemplation of its own response to life and its rationale," Good said in 2015.
Simmons "also drew on mythology in his work, along with elements of classical literature and personal journaling while traveling and sketching," the publication states.
Combined with his art education and successful career as an artist and arts educator, Simmons holds a Masters in English and American Literature.
His writing and communication expertise was instrumental in teaching, writing and illustrating The Technical Pen, originally published by Watson-Guptill in 1992 and then reprinted by Echo Point Books in 2013.
Hillis' collages combine painting and drawing with old stamps, envelopes and writing.
"The pieces tell a story of beauty, fragility, time and branding."
In addition to her professional art practice, Hillis is also an art educator.
Thompson's loosely rendered oil paintings "contain a sense of a captured moment on life's continuum, a glimpse of a narrative that the viewer can also imagine being a part of".
Owned by artist Dolores Justus, the gallery offers a wide range of original works of art, including sculptures, paintings, ceramics and photographs, by recognized artists.
The opening times are from 10 a.m. to 5 p.m., Wednesday to Saturday and by appointment.
Call 501-321-2335 or visit http://www.justusfineart.com for more information.