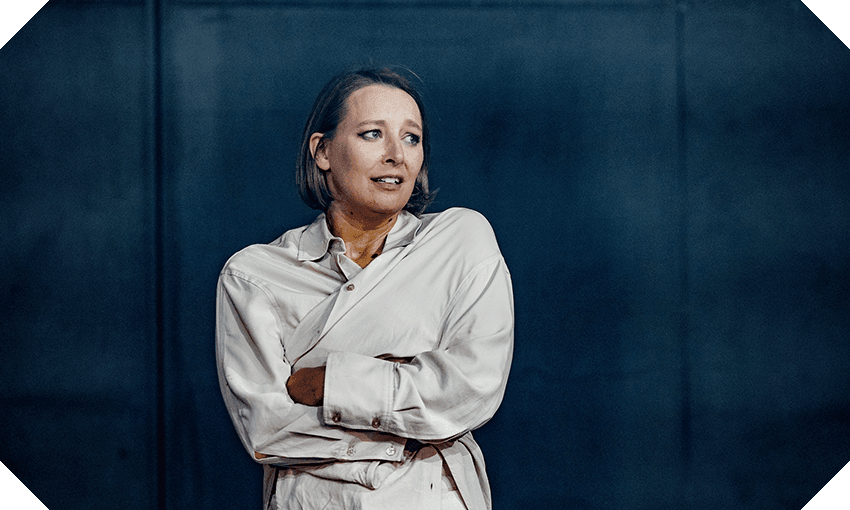 'I was repelled by it': Confrontational play The Writer takes to the stage in Auckland
After rocking the stages in England, The Writer heads to New Zealand. Sam Brooks speaks to his director and explains why they are excited for audiences to experience this remarkable work.

TAuthor is a modest title for a show trying to do so much. The latest Silo Theater production is many things at once: it is a scathing attack on the forces holding theater back, along with its most vulnerable and vital performers. It's a provocation, prompting audiences to wonder what makes a "good story." And it's a raw and unabashed exploration of what it takes to be a woman making art.
Director Sophie Roberts, also artistic director of the Silo Theatre, says she is drawn to works that attempt something adventurous with form. "The 'piece well done' isn't really what excites me as an artist," she says. "Even though I appreciate and love these great classics."
The Writer, by British playwright Ella Hickson, certainly is fearless in his approach and message. "The central idea of ​​the piece is female expression and what it takes to make good art as a woman," says Roberts. "Hickson challenges storytelling, what theater is, what art is, and the limitations of patriarchy on all of those things."
Aggressively, The Writer isn't a "well-made play" — the kind of play where the fourth wall is solid, scene transitions are executed smoothly, and characters speak more or less like real-life people. In The Writer, the boundaries of reality are redefined in every scene, and the audience is never allowed a comfortable paradigm, stylistic or ideological, from which to view the work. For Roberts, the script ticked more than a few boxes, most notably that she had never seen a play like this before.
When the script hit her desk, it was the most exciting thing she had read in years. "It just felt so unique in what it was and what it was trying to do," she says. "It felt like a great challenge for a group of artists to make this happen."
Roberts believes the Silo Theatre, which turns 25 this year, is in a unique position to stage this show. While the company has adapted its approach to different eras of its existence, there are elements that have always remained fundamental to Silo's DNA, she says.
"One of those things, I think, is that the company has always presented challenging, fearless new writing from New Zealand and around the world that will give audiences something to think about, something to talk about and a transformative experience."
WWhen Roberts asked actress and writer Sophie Henderson to star in The Writer, Henderson said yes—after all, she would work with Roberts on anything (like many actors). However, Roberts cautioned her to read the play before jumping in her feet first.
After that, the actor was still smitten in Henderson. However, the author in her had a more complicated answer. "Part of me hated it," she says. "I was repelled by it because of the shape, because of the structural break. It's so confronting as a writer."
Still, once I made up my mind, the track "got under my skin," says Henderson, who plays an untitled, thinly-veiled version of Hickson. "It's this trapped anger, suppressed anger that I haven't let out," she says of the role. The Writer will allow audiences to see Henderson as they've never seen her before, in a role that lets her do what women are so rarely allowed to do on stage.
Before signing on for the production, Henderson had not acted for five years. Her last appearance was in Silo Theater's Revolt. She said. Revolt Again by Alice Birch, another play exploring what it takes to dismantle patriarchal norms. She says her years away from acting have taught her some hard truths about writing. "You are the boss of the world. Up to a point. Until someone else takes it away from you."
Henderson has written several films and is currently working on a film about soldier Charles Upham and her own autobiographical television series. "I feel so powerless as a writer most of the time. You are so small and you feel invisible. People want to make you invisible," she says. "In the film world you are at the bottom. People say a script is "a blueprint" for a movie! Don't you think I made 10,000 decisions on every single sentence? It's not a blueprint, there's no movie without me."
While Roberts says the play's core is about being an artist, she also believes it's about the intersection of art and commerce. "Ella Hickson is doing something very pointed to challenge this idea of ​​who the hell gets to decide what's good art and what's good theater. We've all just accepted this male-defined notion of commercially viable naturalism as good. And why?"
A text like The Writer, which shifts realities almost scene by scene, was a real challenge for Roberts. In this play, the director must not only define a single world, he must do it multiple times, leading the audience through an experience that approaches a whole new form of theater.
The most assertive way The Writer breaks the mold happens about halfway through the show. It's a scene in which Hickson uses the stage directions to provoke society, who at odds with her lines: "What follows should be an attempt to stage female experience, the director should be aware of avoiding the inherently patriarchal nature of theatre."
The temptation with such a provocation is to apply many ideas or images to it, but Roberts quickly found that she had to let go of her usual approach. For this section of the play, she decided to "work off Sophie [Henderson] and to be guided by her as an artist, by the way this text sits in her body. You approach it from a place of feeling and not from a place of contemplation or being very conscious of looking at it."
She says getting a writer's provocation like Hickson's is "so freaking amazing because it really challenges you as a director and as an actor. It makes you realize that this is the masculine way of seeing women on stage and we will not do that."
Though there's explicit content on the show — there's a content warning about pegging — the part that scares Henderson the most is this section of the play. "How do you do that? Ella Hickson talks about flinching a bit, but it's part of it. She wrote it in one day and didn't touch it. It's really written with instinct."
Although The Writer is specifically about a writer caught between her art, other artists and the commerce that all surrounds her, the play swings beyond the specific experience investigating Hickson, a playwright commissioned to work for a theater company above her to write life.
Roberts says the power and relationship dynamics explored in the play will be familiar to women everywhere. "It's my experience, it's Sophie Henderson's experience, it is [actor] The experience of Ash Williams, the experience of our stage manager. For every woman working on the show, it feels so true to our experiences in this industry."
The game's protagonist's struggles hit hard for Henderson, too. "I've never been in a rehearsal room that was so personal and so political," she says. "There are lines in the play that I wish I'd had the courage to say to directors, friends, mentors, or creeps."
The word Roberts uses to sum up The Writer is bold. It's not the kind of bravery you often see on stage – he's actually trying to break down the walls of theater that limit it, and then those of society that limit the theater world. "Bold writers have something to say," says Roberts. "Your work makes us feel bigger and bolder.
"I hope that's what The Writer does for people."
The Writer runs until September 18th at the Q Theatre, Auckland. You can book tickets here.