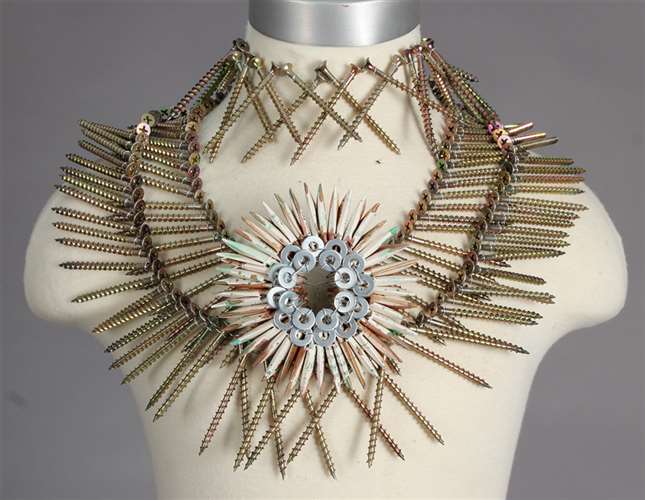 Hawai'i Regional Scholastic Art Awards exhibition at HiSAM
ONEAnother wild year has passed as students navigate the COVID-19 pandemic. And for some, making art has meant getting to their happy places. See the fruits of their perseverance and creativity at the 59th Annual Hawai'i Regional Scholastic Art Awards exhibit.
Each year, the Hawai'i State Art Museum proudly hosts the exhibit of award-winning artwork by students in grades 7 through 12 from all islands. Kamakani Konia, project manager at the State Foundation on Culture and the Arts, takes on the Herculean task of organizing the largest student art competition in Hawaii; This year, a record was set with more than 2,390 entries from more than 44 schools. In its role as the regional affiliate of the Alliance for Young Artists & Writers—the nonprofit organization behind the Scholastic Art & Writing Awards, the nation's most prestigious recognition program for creative teens—the SFCA handles all of the logistics of organizing the art competition from start to finish , which takes months.
"It's been a crazy fall semester for our educators, especially when so many are dealing with the challenges of returning to face-to-face classes amid a pandemic," says Konia. "It was refreshing to see that after a tough year of virtual learning, students and teachers were keen to get back into the classroom to produce work." Students submitted artworks in 17 different categories, covering a wide variety of creative mediums, from Photography to pottery, represented. Like last year, entries were submitted and judged digitally, making it easier for Neighbor Island students to participate. Many of the judges who volunteered last year returned, but doing everything virtually had its challenges, such as reviewing 3D sculptures and ceramic pieces through flat screens. In the end, 253 works by 173 student artists were selected for the exhibition.
The pandemic is still a recurring theme in many of the student works, others touch on the idea of ​​emergence. "Take our photography category, for example: last year's work consisted of many intimate portraits taken in student apartments or their backyards, but this year we've seen more images of people engaging in public spaces, including those outside from Hawaii. ' explains Konia.
Of the many winners this year, two particularly impressed Konia.
"One I really enjoyed watching was Daniel 'Ekolu' Martinez III's 'Unapologetically Me'," which uses she/them pronouns. "It's an amazing portrait that speaks to me about embracing personal identity and celebrating what makes us all unique," says Konia. "We've seen some of 'Ekolu's work over the years and it's exciting to see how her creative style has evolved."
Another outstanding piece is "Transience" by Linda Schmitt. "Her approach to surrealism is absolutely incredible, and her sense of depth and space has this powerful effect of grounding the viewer in this whimsical and otherworldly composition," he says.
There will be no formal awards ceremony, but you can show your support for the student artists
by experiencing their artworks in person and tagging your photos on Instagram @artandwriting and #scholastic awards. If you're feeling inspired and want to get involved, consider volunteering to help judge the next event. Konia says, "We welcome anyone with a passion for our young people and the art to inquire about becoming a Scholastic judge. Past panels have included not only local artists, but also writers, gallery teachers, educators and cultural administrators." Teachers from schools whose students are actively participating in the competition are not eligible to enter. Email Konia at kamakani.p.konia@hawaii.gov with a little bit about yourself and your experiences with the art.
To see 18.02. to 12.03., 250 S. Hotel St., 2nd floor, open Monday to Saturday 10 a.m. to 4 p.m., closed on public holidays, free admission. Further information follows @hawaiistateartmuseum
---
Lisa Shiroma is a correspondent for HiSAM and is an artist and art educator. Lisa is the former owner of the HiSAM Museum Gallery Shop, which she ran from 2017 to June 2020 with Mori by Art + Flea partners Aly Ishikuni-Sasaki and Travis Sasaki.