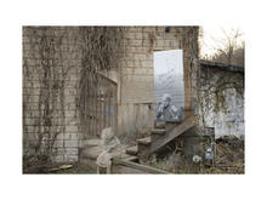 Berkeley Arts Council Announces PHOTO 21 Award Winners | Magazine news
[ad_1]

MARTINSBURG – The Berkeley Arts Council announces the winners of the nationally judged photo art exhibition PHOTO 21. Our juror Robert M. Hein selected 32 works from a total of 70 submissions from 27 artists. The following works were awarded:
• Best in Show "Perish" by Gabrielle Flanary, Morgantown
• Merit Award "Traces" from Margaret Clingan, Williamsport, Maryland
• Merit Award "Rabbit in Cornfield" from Lynne Breitfeller, Emerson, New Jersey
• Honorable Mention "Twilight on Botany Bay, SC" from Susan J. Mullins, Clendenin
• Honorable Mention "Derek" from Peter Foiles, Frederick, Maryland
• Honorable Mention "Closed Sign" from Karen Smith, Hedgesville
• Honorable Mention "American Dreams: Store" from Sarah Haig, Martin, Tennessee
The selected works are from artists residing in 10 states. This exhibition covers a variety of techniques ranging from digital and film photography to the inclusion of graphics, photo illustrations, and mixed media. There are a variety of printing techniques represented with archival paper and inks, printing on metal, fabric, and mounting on wood.
It's been three years since the Berkeley Arts Council last held an exhibition that focused solely on photographic art. The call to exhibit artists was open to all artists in the continental United States who work in any photographic medium or technique, including digital, cinematic, alternative, or ancient photographic processes. Two- and three-dimensional works (using a photographic technique as the main medium) were included.
The exhibition runs through July 3 at Berkeley Art Works, 116 N Queen Street, Martinsburg. The gallery's opening times are Wednesdays, Thursdays and Fridays from 11 a.m. to 5 p.m. and Saturdays from 11 a.m. to 4 p.m.
[ad_2]