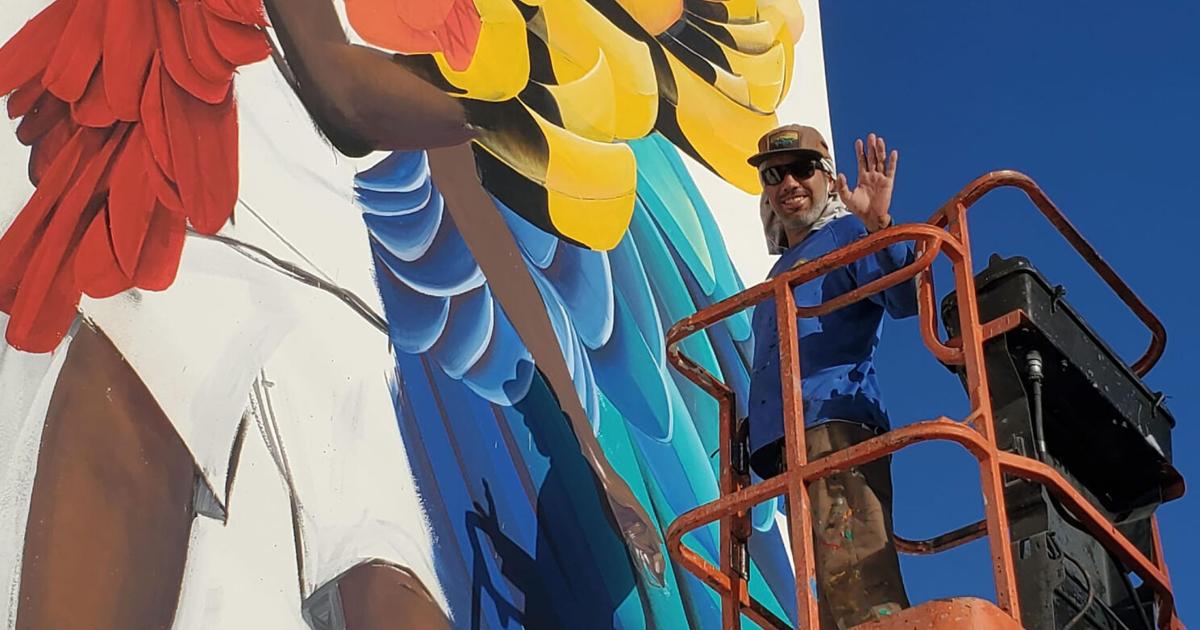 Artist Felipe Ortiz Brings "Explosive Nature" Style to Johnson City | Life
In his latest series of murals, artist Felipe Ortiz uses a theme called "explosive nature" to emphasize the colorful vibrancy and dynamism of the natural world.
It's a style he's applying to a project in Johnson City that he'll be painting on four walls under the Interstate 26 overpass along North Roan Street. Johnson City commissioners approved the artwork in June, and the project was approved by the Tennessee Department of Transportation.
The city is paying Ortiz $58,500 for the project, which will focus on "a sense of movement, well-being and the beauty of our natural surroundings," officials said in a report to the commissioners.
The murals feature animals native to the area and people enjoying the natural surroundings, including a butterfly pollinating a flower, a kayaker navigating a stream, and a mountain biker navigating through a rolling landscape travels
Ortiz expects to start the project in May, which will last about a month.
Originally from Colombia, Ortiz has lived in Massachusetts for about 20 years, but travels extensively for public art projects, which he has focused on for about six years.
Ortiz enjoys these trips because it allows him to meet different people and cultures, but it also allows him to connect with residents from similar backgrounds.
"As a Latin American artist, one of the most surprising things I think about when you travel around the United States is how often you find your people," Ortiz said. "I've found Hispanic communities and individuals from Latin America in almost every place I've traveled in the States."
Ortiz said he primarily paints in Massachusetts, but he's also completed projects in Miami, Los Angeles, Wichita, Albuquerque, Puerto Rico, and other cities.
As he prepares to paint artwork that will highlight the landscape of Northeast Tennessee, Ortiz looks forward to touring the diversity — and biodiversity — of Johnson City. Ortiz said he's visited places in the Appalachian Mountains, but not Johnson City specifically.
"I'm really looking forward to exploring the area ahead of time before I start painting and being able to get some of the references first hand," Ortiz said.
In researching the project, Ortiz said he communicated with city employee Cheyenne Kumbhare, who helps coordinate public art projects, and Cole Hendrix, a member of the Public Art Committee, to learn more about the area. They shared information about the local environment, Ortiz said, which served as a starting point.
Ortiz said he usually tries to get to a town at least a week beforehand to do hikes, take photos, and get a feel for a place.
"Explosive nature" is a style that began in Colombia, Ortiz said.
He moved to the United States when he was 15 and now has dual citizenship. Ortiz made a trip back to Colombia after spending about half his life in the US, which had a lasting impact on his technique.
The trip revived his appreciation for natural environments and subjects, which can combine abstract forms with recognizable flora and fauna in his art.
Ortiz's mural is one of a series of public installations officials recently commissioned in Johnson City.
"I think murals in a lot of cities generally represent the temperature of a place," said Vanessa Mayoraz, chair of the Johnson City Public Art Committee. They help show how a community sees itself.
She said the committee has a two-part selection process that relies on input from members of the community. A wide range of people review submissions, Mayoraz said, and projects can attract about 120 applicants.
The judges are looking for projects that will improve the lives of the people who live here, Mayoraz said. Officials are also closely following conversations about the concept of "placemaking," an approach that the Project for Public Spaces says "inspires people to reinvent and reinvent public spaces as the heart of every community."
A happy community, she notes, is more likely to attract visitors.
"In general, we can all agree that Johnson City tried to showcase themselves and try to showcase things," Mayoraz said. The natural environment is one of them.