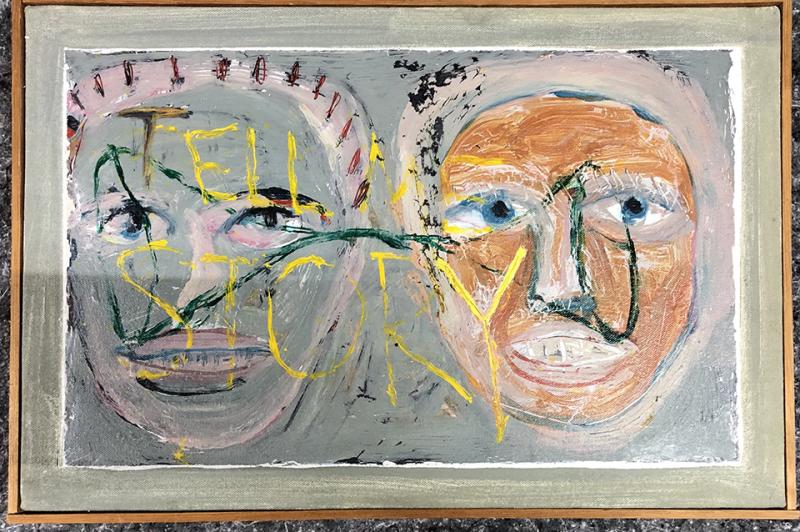 "Art Matters" exhibition by the Mid-Coast Salon at the UMaine Hutchinson Center
[ad_1]

The Art Matters exhibition at the Mid-Coast Salon opens on August 4th at the H. Allen and Sally Fernald Art Gallery in the Hutchinson Center, University of Maine, Belfast. The show, which runs through September, is free and open to the public Monday through Friday from 8:00 a.m. to 4:30 p.m. Visit the Hutchinson Center website for more information.
A free public reception for the show will take place on August 11th from 5.30pm to 7.30pm.
The Mid-Coast Salon is a monthly discussion group of two dozen accomplished artists brought together through their love and commitment to the arts. In this exhibition, 16 artists present 54 different works from drawing, painting, photography, ceramics and flex forms. Participants include the nationally known Belfast painter Harold Garde, who is now 99 years old. Gardes painting "Tell a Story" is one of the few that he has painted "where it seemed appropriate to incorporate words".
An essential part of the show is a collection of statements by the artists about why art is important.
"Artists are often at the forefront of progress and show us something we wouldn't otherwise experience," says David Estey, painter and founder of the Mid-Coast Salon.
Kerstin Engman, who teaches art at the University of Maine, says most man-made things exist because of an experienced, trained artist or craftsman. With his mixed media pieces, Greg Mason Burns emphasizes that artists are important in order to convey their personal backgrounds and connections to us.
Several artists interpret society, such as Lesia Sochor's "Repair" series, Leslie Woods' black history paintings, and Liv Kristin Robinson's landscape photographs, in which silence is a metaphor for the pandemic. Carol Sloan's figure drawings tremble uncertainly about fragile spaces. Jack Silverio, Bob Richardson, Frederick Kuhn and Michael Corden fascinate us with paradox through apparent simplicity. Kenny Cole offers three new political works and ex-Camden Rockport teacher Russell Kahn adds sgraffito ceramics. The paintings by UMaine professor Ed Nadeau and New Yorker Andrea Assael encourage us to ponder and interpret their frank narratives.
This exhibition, first shown in July at the UMVA Gallery at the Portland Media Center, will open in August in Midcoast Maine at the H. Allen and Sally Fernald Gallery at the UMaine Hutchinson Center, 80 Belmont Ave. be seen in Belfast. September 4th to 30th.
For information or an accommodation request, contact Abby Spooner, hutchinsoncenter@maine.edu. For more information on the H. Allen and Sally Fernald Art Gallery at the Hutchinson Center, visit on-line.
About the Hutchinson Center:
The Hutchinson Center is an outreach center for the University of Maine at Orono that serves as an educational and cultural center for the Midcoast region. It is named after the University of Maine President Emeritus Frederick E. Hutchinson. The Hutchinson Center's mission is to expand access to University of Maine academic and non-degree programs and services, lifelong learning opportunities, and professional and professional development experiences by using innovative approaches that enhance the synergy between units of the University of Maine Systems and the University of Maine departments and divisions, and which include a wider Maine community.
About the University of Maine:
The University of Maine, founded in Orono in 1865, is the state university for land, sea, and space exploration. It is located on Marsh Island in the home of the Penobscot Nation. As the flagship public university of Maine, UMaine has a nationwide mission of teaching, research, and economic development and community service. UMaine is the state's only public research university and one of the most comprehensive colleges in the Northeast. It attracts students from all 50 states and more than 75 countries. UMaine currently enrolls 11,741 undergraduate and graduate students with the opportunity to participate in groundbreaking research with world-class scientists. UMaine offers more than 100 degree programs in which students can earn Masters, PhD or Professional Scientific Masters degrees, as well as graduate certificates. The university promotes environmental responsibility with considerable efforts on the entire campus to save energy, to recycle it and to comply with environmentally friendly building standards in new buildings. More information about UMaine can be found at umaine.edu.
[ad_2]