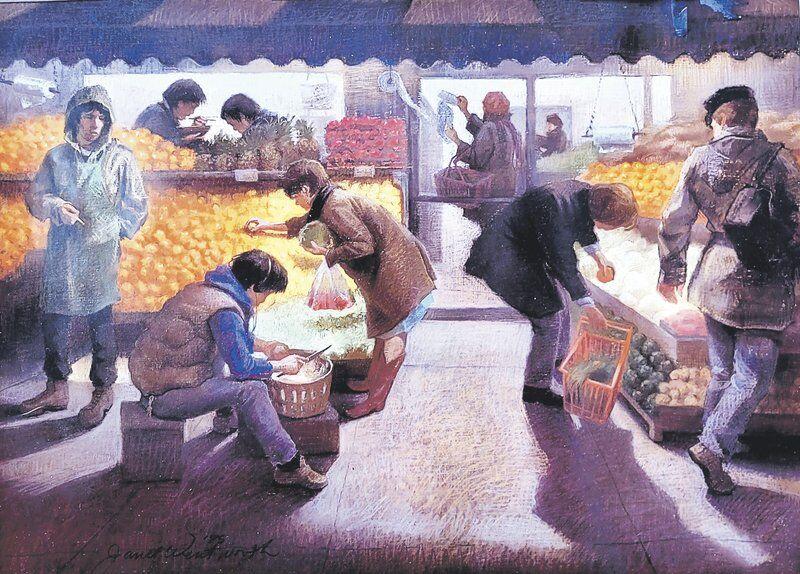 Art exhibition puts Asian-American shop life in the spotlight | Local news
[ad_1]

An upcoming art exhibition in Hobart will shed light on recent Asia-Pacific discrimination, community heroes and women.
"Janet Wentworth Erickson An Artist's Soul: Form and Social Conscience A World of Diversity in Watercolor, Pastel and Oil" will be on display at MURAL Art Gallery from July 17th to August 21st.
Wentworth Erickson of Delhi said she worked on a painting project for several months in the late 1980s and early 1990s while living on the Upper West Side of Manhattan. She said the project, which was funded by a grant, is about South Korean immigrants opening grocery stores in New York City.
She said she drew on-site at a Korean grocery store, Chois' Farm Store, to document what the immigrants went through, and she made 30 drawings before putting them together into a painting for sale. According to information she sent with the exhibition information, the shop was open 24 hours and belonged to Korean immigrants who lived in Queens. She said the family would speak Korean to each other and English to customers.
"The history of the markets is fascinating," she said. "It's a real success story. When they came to the country they did not have much money and settled in the slums and made them prosperous. Now the second generation has followed suit and they no longer want to take over for their parents, so there aren't many in New York City anymore. "
She said she drew members of the Korean family who owned the store, which focused on one immigrant, Jian Lee, and paid him to model for them. She said Lee immigrated to the US from South Korea and was trying to make enough money to bring his wife into the country. She said he died before that could happen and the exhibit was dedicated to him. She said she also used some of her friends as models for customers in the store.
"With all the current anti-Asian discrimination on the news, I looked at the drawings and decided they needed to be shown," she said. "I am not addressing this discrimination directly in my exhibition, but I would like to respond to it with the heart of a certain group of people. I want to show people the courage it takes to leave your country and start over in a new one. Many of us will never have to. "
In addition to the drawings by the South Korean immigrants, she said the exhibition will include an "artist's diary" of their work and some passages in Korean translated by SUNY Oneonta professor Yun-Jung Choi. She said the translation was funded by a Creative Activity Grant from SUNY Oneonta. Their exhibition will also feature paintings, pictures, and portraits from the Community Heroes Exhibition, held at the Fenimore Art Museum in 2015, and of African American and Latin American women.
"I'm trying to show that we have enormous diversity in the region," she said. "The exhibition is a statement about the struggle of women, the struggle of the colored and the struggle of the immigrants."
The exhibition will be on view at the MURAL Art Gallery at 631 Main Street in Hobart. The gallery's opening times are on Saturdays from 12 noon to 4 p.m. or by appointment on 607-538-3002. There will be an artist reception on July 17th from 4pm to 6pm. More information is available at muralgallery.org.
Vicky Klukkert, employed writer, can be reached at vklukkert@thedailystar.com or 607-441-7221.
[ad_2]