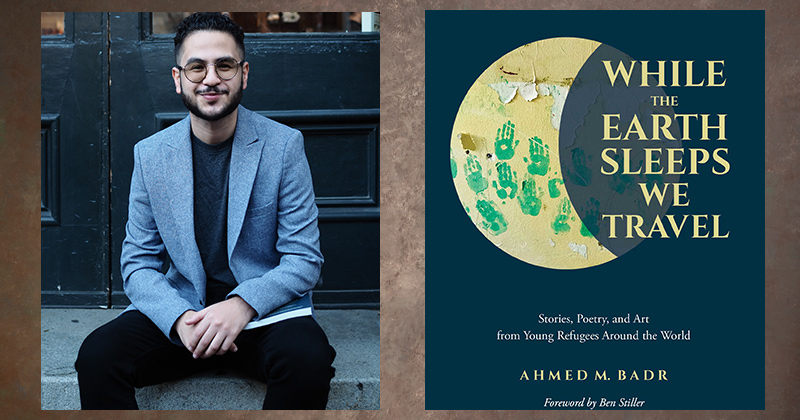 2022-23 First year of joint readers
Article by Meghan Biery
Photos courtesy of Ahmed M. Badr
June 06, 2022
The University of Delaware was selected for the 2022-23 first year Common Reader While the earth sleeps, we travel: stories, poetry and art by young refugees from around the world, by Ahmed M. Badr and with a foreword by actor Ben Stiller, Goodwill Ambassador of the United Nations High Commissioner for Refugees. Freshmen read the book before coming to campus, and the Common Reader Program organizes speakers, exhibitions, and other cultural events around the theme of the book throughout the freshman year.
Ahmed M. Badr is a 23-year-old Iraqi-American author, poet, and social entrepreneur who works at the intersection of creativity, displacement, and youth empowerment. Ahmed's work seeks to combine poetry, archival collections and multimedia to explore the complexities of migration, identity and self-expression, with an emphasis on reshaping and reclaiming the power of tragedy.
On July 25, 2006, Badr's home in Baghdad was bombed by militia forces. He and his family moved to Syria, where they lived as refugees for over two years before being approved to move to the United States. As a teenager, Badr founded Narratio, an organization and online platform that activates, supports and highlights the creative expression of displaced young people through grants, workshops, publications and partnerships. In the summer of 2019, Narratio partnered with Syracuse University and the Metropolitan Museum of Art to launch an annual storytelling grant for resettled young refugees. In the last three years, the work of the Narratio Fellows has reached more than two million people worldwide.
Badr is the host of Virginia Public Media's (VPM) award-winning Regional Murrow. relocated Podcast and co-host of the World Bank's #Youth4Climate Live Series. Badr has approached the United Nations more than 10 times.
Badr is the storyteller behind it UNPACKAGED: Refugee luggage, a multimedia installation that transforms the homes of refugees in a series of suitcases. UNPACKED is critically acclaimed and has been exhibited at UNICEF House, Harvard Divinity School, Yale University, Juilliard, Iowa State University, University of Chicago, Mississippi State University and World Bank Headquarters. In February 2020, Badr debuted four visual works at Educate, an exhibition featuring emerging artists from around the world at Christie's New York.
Badr received a Bachelor of Arts in Anthropology from Wesleyan University and a Masters in Education from Harvard University. He received the Adrian Cheng Fellowship from Harvard Kennedy School and the Social Innovation Fellowship Fund Award from Harvard Business School. He is a National Geographic Young Explorer and serves as one of 17 UN Young Leaders for the Sustainable Development Goals in the Office of the UN Secretary-General's Envoy for Youth.
A UD tradition maintained by the Seminar program in the first yearCommon Reader offers freshmen the opportunity to engage in meaningful conversations with fellow students and to participate in the intellectual life of the entire university community.
Next steps for new blue hens
Blue Hens should read the book in Summer 2022 and can purchase a discounted copy from New Student Orientation courtesy of the University Bookstore.
Additional Common Reader experiences will take place during the fall semester, including an essay and art competition, a library exhibition, and a talk with the author. More information will be shared soon.